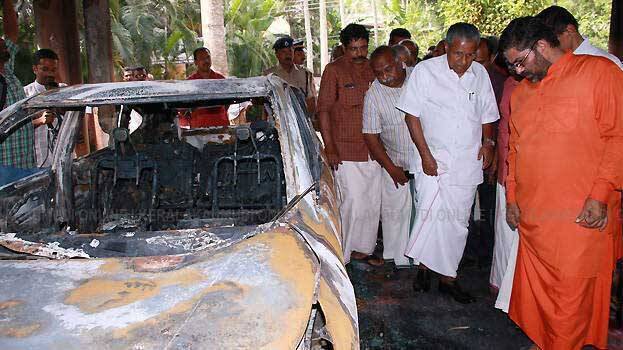 THIRUVANANTHAPURAM: A major breakthrough in the Swami Sandeepananda Giri ashram burning case. Prashanth, the main witness of the incident, has changed his statement. Prashanth's statement was that his brother Prakash had set fire to the ashram. In his confidential statement to the magistrate, Prashanth said that the Crime Branch threatened him to give statement against his brother. The confidential statement was given before the Additional Magistrate. Meanwhile, the Crime Branch has clarified that they are not aware of the circumstances under which the statement could be changed.
Prashanth's revelation was that the ashram was set on fire by local RSS activist Prakash and his friends. Prashanth who is Prakash's brother said this to a private channel. Prakash had committed suicide in January this year. Prashanth said this was revealed to him a few days before Prakash took the drastic step. Before committing suicide, Prakash was beaten up by his friends and RSS activists Kochu Kumar, Valiya Kumar and Rajesh. Prashanth said that he suspects them to have committed this crime.
A fire broke out at the ashram of Sandeepananda Giri in Kundamankadavu on October 27, 2018. Three vehicles were set ablaze. The arsonists had placed a wreath with the inscription 'tributes to Shibu Swamy.' The chief minister had visited the ashram and had then ordered a probe. Following that, the crime branch took over the case. The case investigated by the local police was later investigated by the commissioner's team for six months. When there was no development, the case was later handed over to the crime branch. The then crime branch chief Tomin Thachankary had personally investigated. Even when S Sreejith became the chief, he evaluated the progress of the investigation and had given directions.
Forensic evidence did not reveal where the fire started or who was behind it, except that it was lit with petrol. As the CCTV cameras in the ashram were not functioning, it was difficult to get evidence. Those who staged a march to the ashram a week before were put under surveillance, but to no avail. There were no clues from other CCTV cameras or phone calls in the area. In the meanwhile, a report also came out that the crime branch is making a move to submit a report to the court after ending the investigation in the case. It was during this time the crucial revelations surfaced.