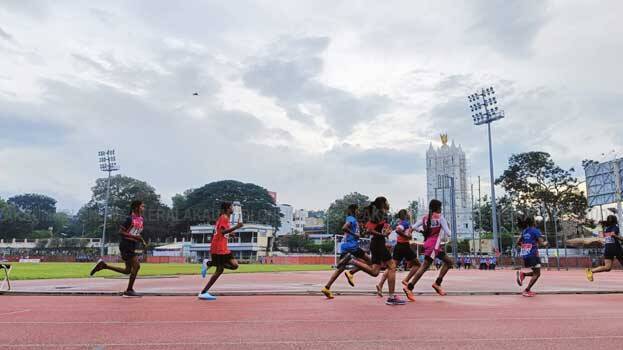 THIRUVANANTHAPURAM: When Shiva Dev of Kothamangalam Mar Baselios School got first in pole vault at the school sports meet, his coach CR Madhu was feeling happy about his decision to pawn his gold necklace.
Shiva Dev touched Madhu's feet to show his gratitude to his coach. The coaches and schools reached this situation after the government stopped the fund to support sports students.
Madhu had to pawn his gold necklace because five days back one of the poles got broken. The cost of one pole is Rs.1.5 lakhs. Mar Baselios school incurs an expenditure of Rs.2.5 lakhs a month to train its students. The Rs.1 lakh grant from the Sports Council is not there for some time now. They expected to get Rs.5 lakh from Khelo India scheme. But that too did not materialize.
We can see many coaches in this sports meet, who pay for the expenses of their students from their own pockets. Kannan began a sports revolution of sorts at Natikayil in Thrissur with the money he got from driving carrier auto. Another revolution was started by KC Girish at Kasaragod with his KC Throws Academy, where he used the money from his gym to train students in throw sections.
Kannan says that the Natika Sports Academy, which helped many athletes to rise to national level, is under crisis. His cost for coming to Thiruvananthapuram is Rs.55,000. His students won gold in girls' long jump for senior and junior. They also got two silver medals. He said that it cost Rs.1 lakh for all the expenditures including food for the children. He raises this money by driving the carrier and also from donations.
Students of KC Throws Academy bagged seven medals including three records. Girish Kumar says that he had to pay Rs.50,000 to reach here. Currently, the academy is run with the help of parents. But they too have limitations.
They all demand that government provide grants or training facilities or training centers. They are also seeking sponsors who could help them with the funds needed to train future athletes.