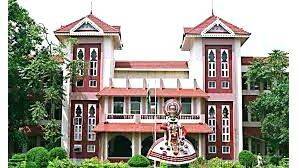 THIRUVANANTHAPURAM: It has been alleged that MG university Pro-VC Dr. CT Aravindakumar has provided work experience certificate to appoint his wife Dr Usha as professor in CUSAT. Usha, who was directly appointed as a professor in the Department of Environmental Studies at CUSAT, is being paid Rs 2 lakh per month.
Aravindakumar, who is also the director of the MG School of Environmental Sciences, facilitated experience for his wife by giving her a temporary appointment in the projects in his department. Aravindakumar is also the Chairman of Examination Reform Commission in universities.
Usha, who holds a doctorate in Chemistry, was an Investigator in the Women's Scientist Project at MG for 3.5 years and a pool officer in the CSIR project for two years. All these are contract appointments. Pro-VC, her husband, has given a certificate that states that she has guest lecturer experience from 2003 to 2015, including the period in projects. She qualified for the interview on the basis of this certificate. The publications presented for the interview were prepared by Usha together with her husband. Usha was also illegally granted guideship to qualify for the post of professor.
As per UGC rules, working as guest lecturer is not teaching experience. For direct appointment of Professor, ten years teaching experience as Assistant professor, Associate Professor or equivalent post is required.
It was alleged that Usha was appointed by rejecting candidates with higher academic qualifications, teaching experience and research publications. Usha's appointment was one of the first orders by CUSAT VC Dr KN Madhusudhanan, who was appointed by the current government.
Guideship is also illegal
The guideship was granted to Usha, who was a temporary project officer, by violating the UGC and university rules that states that permanent teachers should be appointed as research guides. Higher Education Council Vice Chairman Dr Rajan Gurukal granted the guideship when he was MG university VC. Four students also conducted research under her guidance.
The Save University Campaign Committee filed a complaint with the Governor demanding to cancel Dr Usha's appointment and action be taken against MG Pro VC and CUSAT VC.
The High Court had earlier disqualified Priya Varghese, the wife of Chief Minister's private secretary KK Ragesh, who topped the rank list of associate professors in Kannur University on the basis of her teaching experience on deputation.