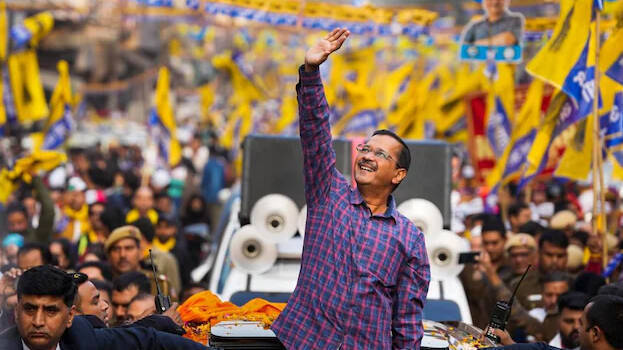 NEW DELHI: The Aam Aadmi Party (AAP) has won the Municipal Corporation of Delhi (MCD) elections and put an end to the BJP's 15-year rule. With this, Kejriwal's party has cemented AAP's influence from the grassroots in Delhi. AAP crushed the BJP, their main opponent in the elections. The Congress suffered a pathetic defeat.
AAP won 134 seats in Municipal Corporation elections which has a total of 250 wards. The BJP, which has lost power, secured 104 seats. But the Congress was limited to just nine seats. Others, including independent candidates, won the other three seats. This was the first election held after the reorganization of the Municipal Corporation of Delhi (MCD). In the 2017 elections, the BJP had won 181 wards. Aam Aadmi Party, which came second during those elections, had won in 48 wards and Congress in 27 wards.
AAP celebrates victory
Aam Aadmi party's senior leaders Manish Sisodia and Raghav Chadha reached Kejriwal's residence when the results came out in their favour. Party workers were also very confident as the exit polls had predicted AAP's victory. But when the counting of votes started, the BJP was leading for a while. But later when the results came out in their favour, the party workers gathered in front of the party office with patriotic songs, balloons and flowers.
Chief Minister Kejriwal congratulated the people of Delhi following AAP's victory. "Today, the people of Delhi have given a message to the entire nation. The people in power should not be arrogant.", he said.
Will this repeat in Gujarat tomorrow?
The question also arises whether the AAP magic that happened in Delhi today can be expected tomorrow in Gujarat too. The results of the Gujarat and Himachal Pradesh polls will be out tomorrow. AAP was the main opponent of BJP in Gujarat. But the exit poll results indicate a landslide victory for the BJP. However, AAP hopes for a miracle.