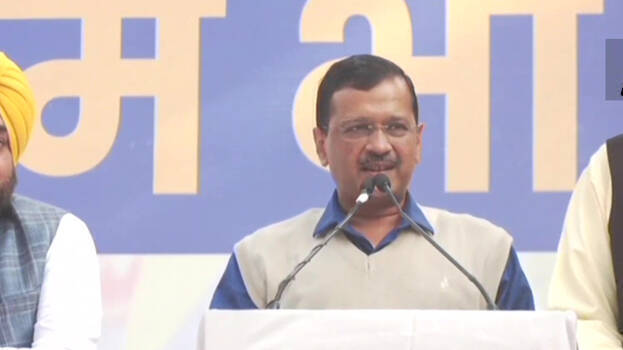 NEW DELHI: Delhi Chief Minister and Aam Aadmi Party (AAP) national convener Arvind Kejriwal has responded after the party's victory in the Municipal Corporation of Delhi (MCD) elections. He said that he needs Prime Minister Modi's blessing and the Centre's cooperation for the governance.
"I congratulate the people of Delhi for this win and thank them for bringing change. I want the cooperation of the BJP & Congress to work for Delhi now. We have to make MCD corruption-free. We worked day and night to fix schools, we worked day and night to fix hospitals, today they have given us the responsibility of cleaning up Delhi, ending corruption. Today, the people of Delhi have given a message to the entire nation.", said Kejriwal.
Arvind Kejriwal addressed the people along with Delhi Deputy Chief Minister Manish Sisodia, Punjab Chief Minister Bhagwant Mann and Rajya Sabha MP Sanjay Singh after the election results came out. AAP secured the power in Delhi Municipal Corporation and put an end to the BJP's 15-year rule.
AAP won 134 seats in Municipal Corporation elections which has a total of 250 wards. The BJP, which has lost power, secured 104 seats. But the Congress was limited to just nine seats. Others, including independent candidates, won the other three seats. This was the first election held after the reorganization of the Municipal Corporation of Delhi (MCD).