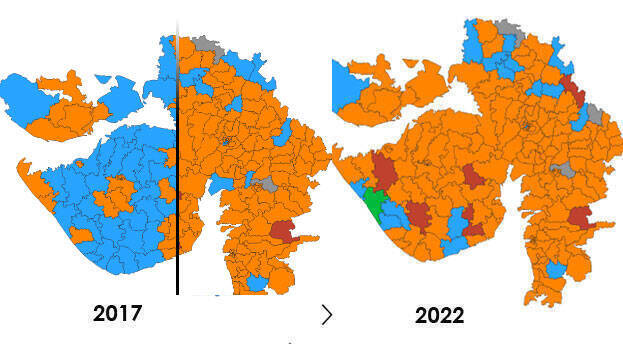 AHMEDABAD: Gujarat has once again gone the saffron way as BJP secured more than 150 seats in the assembly elections. This is way beyond the impressive figures of 149 that Congress won in the 1985 elections.
The exit poll results had predicted that the BJP, which has been ruling Gujarat for 27 years, would win another term in the state. The results surpassed the exit polls and even the expectations of the BJP. Elections to the 182-member Gujarat Assembly were held in two phases on December 1 and 5. The election results also prove that the Bharat Jodo Yatra under the leadership of Rahul Gandhi could not create any impact among the voters in Gujarat.
Many predicted that AAP would eat into the Congress votes, but the BJP rejected it. BJP National General Secretary Vijayvargia said that the results of Prime Minister Narendra Modi's hard work will be seen in Gujarat. Today's result shows that it came to be true. The Modi effect was crucial in BJP's victory in Gujarat.
30 rallies were held in Gujarat under the leadership of Narendra Modi. BJP had won 127 seats in Gujarat in the 2002 elections held in the backdrop of the Godhra riots. This was a party record. Later in 2017, it dropped to 99. Five years, BJP have registered the biggest victory in state politics. They had a vote share of more than 55 percent in the elections. Congress is leading in only 19 seats. Aam Aadmi Party, on the other hand, is leading in six seats, giving strong indications that it will become a national party.
Modi adopted the method of completely ignoring 'AAP' in all his rallies. He did not mention the name of the party even once in his speech. All the while, Kejriwal and his team exuded confidence. Kejriwal said the other day that AAP will record big wins in Gujarat.
With the death of Ahmed Patel in 2020, the condition of Congress in Gujarat is woeful. There is infighting and power struggle within the party itself. Rahul Gandhi spent only one day campaigning in Gujarat. Although the Congress workers didn't expect a surprise win over their political rivals, they, at the very least, expected a good performance. Well, that ended up as an ill-fated expectation.