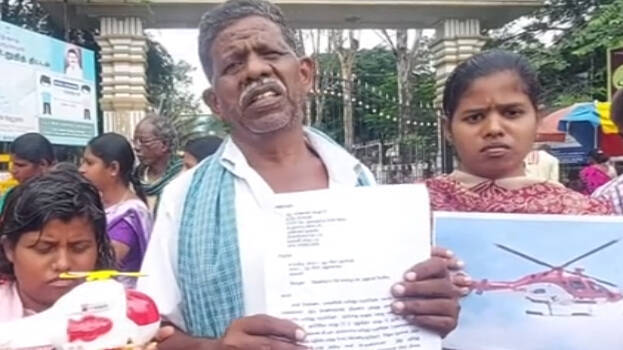 DHARMAPURI: A farmer has approached the collectorate with a request to allow a helicopter to land at his house. Ganesan (57), a farmer in Dharmapuri district of Tamil Nadu, came to the collectorate with his two daughters and his wife.
Ganeshan doesn't have a helicopter. But one daughter was holding a toy helicopter and the other was holding a picture of a helicopter. Ganesan has submitted such a request to turn the attention of the authorities to his situation.
Ganesan says that he could not go to house as there is no road. They have been staying at a relative's house for the past four months as they are unable to go home. A complaint has been filed to the police and revenue officials pointing out this matter. But no action was taken. So, the farmer has submitted a different petition to attract attention of authorities.