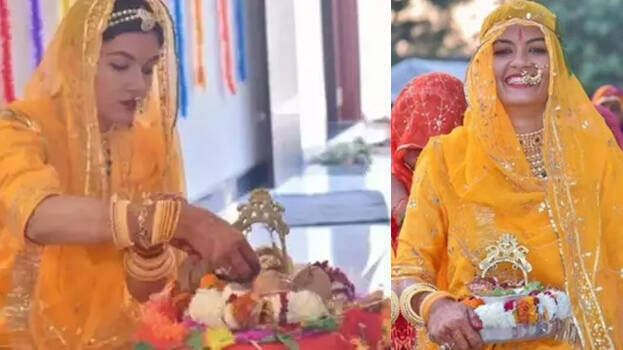 If there are girls in the house, relatives and locals will start coming with marriage proposals after they turn 18. Wherever they go, the girls will face the question of why they are not married even at this age. There are people who are afraid to go in front of their relatives due to this.
Now, unable to bear such questions, a 30-year-old woman has married God.

Pooja Singh, a native of Rajasthan, performed the ceremonies and fictionally married Lord Vishnu. This decision of Pooja, who has completed her master's degree in political science, has surprised everyone.

She also revealed the reason behind this kind of variety marriage. She said that she has seen disputes between husband and wife on very trivial matters. Their lives get miserable in disputes Women suffer the most. I don't want to destroy my life after getting married. That is why she thought of such a marriage.

The woman lives in Narsinghpura village in Jaipur. This rare marriage happened on December 8. Her father, a retired BSF officer, is quite annoyed with her daughter's decision. He didn't attend the wedding. However, her mother Ratan Kanwar supported her daughter's decision and performed the Kanyadan.