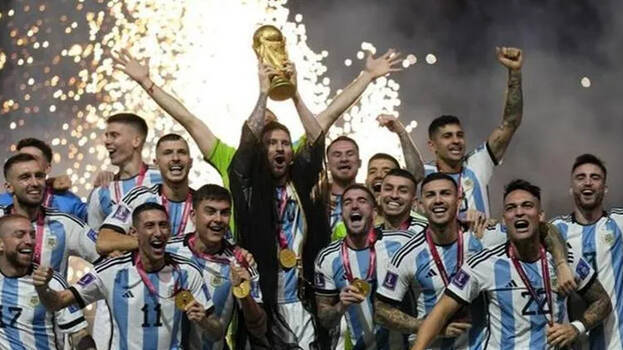 DOHA: Messi's Argentina won the title by defeating France in the final of the World Cup, which evoked all the excitement of the final. Following the win, millions worth of prizes are waiting for Messi and his team. Not only the champions Argentina, but also the second-placed France, all the teams that participated in the World Cup competition will receive a huge amount of money as prizes. Variations in prize money will be decided based on the placings in the World Cup. Each of the 32 participating teams was given $1.5 million in preparation costs for the tournament.
FIFA will pay $42 million to Argentina for winning the cup. This will be around Rs 344 crores. Runners-up France will receive $30 million (roughly Rs. 248 crore) as a prize. Croatia and Morocco, who finished third and fourth, will receive $27 million and $25 million, respectively.
Teams in fifth through eighth place (Netherlands, Brazil, Portugal, England) will receive $17 million each, and teams in ninth through 16th place (US, Australia, Poland, Senegal, Japan, South Korea, Spain, Switzerland) will receive $14 million each. The group stage teams (Ecuador, Qatar, Iran, Wales, Mexico, Saudi Arabia, Tunisia, Denmark, Germany, Costa Rica, Belgium, Canada, Cameroon, Serbia, Uruguay and Ghana) will also receive $9 million each.