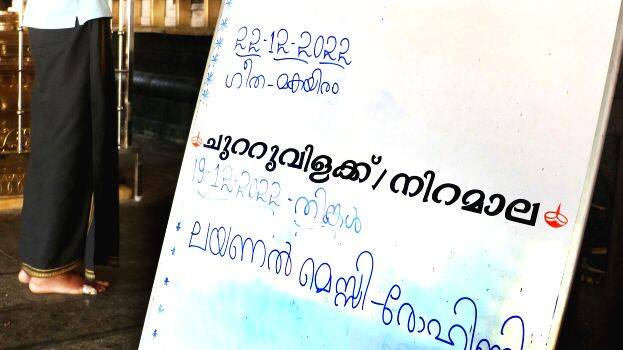 THRISSUR: Though Argentinians have not heard about Jathakam or birth stars, yesterday's Chutuvillaku ritual at Thrissur Sankaramkullangara Bhagavati temple was conducted for Lionel Messi, who has Rohini as his birth star.
The temple devaswom president, Prashant calculated Messi's birth star from his date of birth and concluded that his star was Rohini. He paid Rs.1,750 at the temple to conduct the Chutuvillaku Vazhipadu for Lionel Messi.
When Prashant, who is a die-hard Argentinian fan, saw many people praying for the success of Messi as if he is a family member, he thought of conducting the ritual for the victory of his idol.
After Argentina won the World Cup, many devotees are coming to the temple and giving offerings in the belief that the prayers have come true.
Prashant's four-year-old daughter, Deva Lekshmi, is also a huge fan of Argentina. Sankaramkullangara even has children fan group. His family lives near the Sankaramkullangara temple.