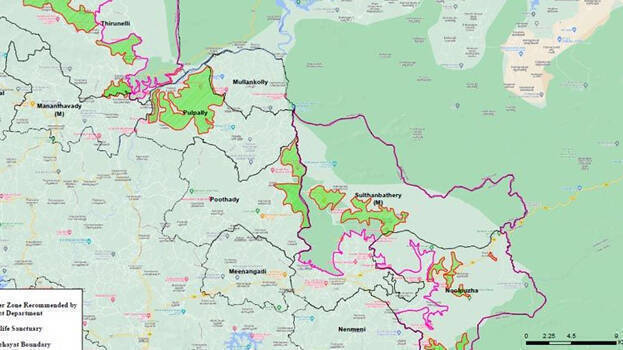 THIRUVANANTHAPURAM: The forest department has published the zero-buffer zone report and the map. The state government had published center's report last year. The report is available on government's websites. Based on this, if anyone has a complaint, the application for it has also been published.
This is a map of twenty-two protected forest areas. Each colour is given to each zone in the report. The green-coloured portion is the forest, and the area in pink around it is a one-kilometer area that could be a buffer zone. Educational institutions are coloured blue, panchayats in black, and residential areas are violet in colour.
The map prepared by the forest department will be displayed in public places in every ward for the people. A help desk has been set up at the ward level in the local bodies to address the complaints of the people. Additional information will be collected and organized at eszexpertcommittee@gmail. The forest department will update the map again with additional information available. The revised map will be scrutinized by an all-party committee of the local body. Based on this, the final draft report will be prepared again.
Chief Minister Pinarayi Vijayan had yesterday assured that settlements, buildings and agricultural fields would be completely excluded and the buffer zone would only be submitted to the Supreme Court based on that map. The chief minister announced this after an online meeting yesterday with the president, secretary, village officers, tehsildars and forest department officials of the 87 panchayats in the hills.