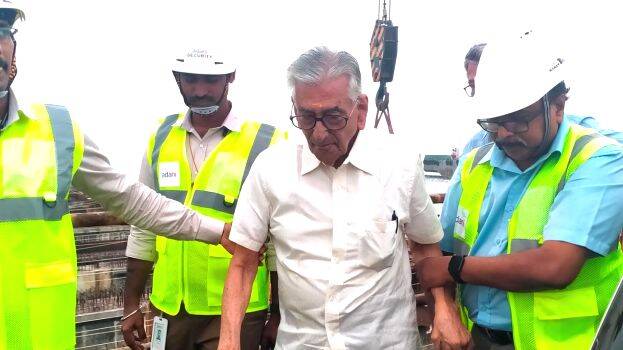 THIRUVANANTHAPURAM: G Govinda Menon, who was part of the team that conducted the survey for the Vizhinjam port before the birth of Kerala, came to Vizhinjam to see the project coming to fruition. Govinda Menon, who retired from government service as an executive engineer, recalls that the surveys were conducted in 1946 and 1949.
Even though he is one hundred and one years old, he still has fond memories of survey instruments such as lead-sounding rope and sounding sextant. The results of the survey were sent to Britain. Although the results were returned as a project report, the project did not take off due to political changes.
It was in the late 1940s that the then Maharaja Chithira Thirunal came up with the idea of ​​a port in Vizhinjam. The British experts were entrusted to conduct the preliminary survey. GG Menon, who had passed out as a second-batch student of Thiruvananthapuram Engineering College, also became a member of the group.
Menon, a native of North Paravur, joined PWD as a section officer in 1944. He retired as an Executive Engineer in 1977. Menon, who lives near the Subramanya Swamy temple in Kowdiar, visited Vizhinjam with his sons Harikumar and Sasikumar. He expressed his desire to see the port site when Mother Port Action Committee workers visited him in person and informed him about the progress of port construction.
Vizhinjam Mother Port Action Committee workers Satheesh Gopi, Wilfred Kulas, Prashant David and Elias John accompanied Menon. Vizhinjam Project Director Ethirajan Ramachandran, employees Deepesh, Vipin, Vatsalakumar and others received Menon.