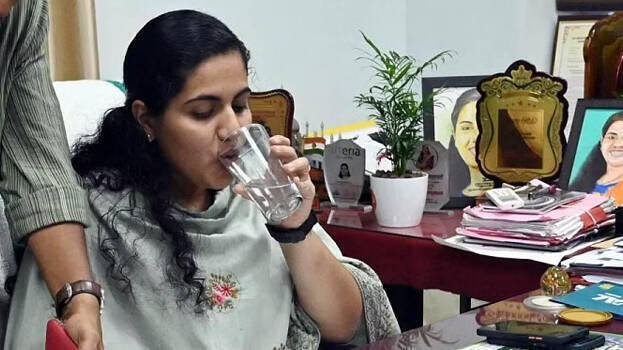 THIRUVANANTHAPURAM: Crime branch seized five computers from the office of Mayor Arya Rajendran as part of the investigation related to the letter controversy in Corporation. These have been sent for forensic examination. DR Anil's mobile phone has also been sent for forensic examination.
Reports are that the CPM leadership is strongly opposed to the mayor's actions and approach, even though the opposition was able to end the strike by making D.R. Anil a scapegoat as the opposition hardened its stance against Anil and Mayor Arya Rajendran. It is believed that this is evidenced by the fact that it was agreed in the consensus discussion that the decision will be made according to the court ruling, which is a change from the position that the mayor will not be changed no matter what.
Yesterday, in the meeting in the presence of Ministers MB Rajesh and V Sivankutty, a consensus was reached by removing DR Anil. After the discussion, Minister MB Rajesh informed the media in the presence of other party leaders that it was agreed to remove DR Anil from the post. As the case against the mayor is under consideration, the opposition leaders accepted the position of the ministers that further action can be taken only as per the court order.
With this, BJP district president VV Rajesh and DCC president Palode Ravi announced that they are calling off the strike in the corporation. The leaders also stated that in the context of the investigation into the allegations against the Mayor, it will be dealt with legally. The corporation and the government are of the view that the letter against the mayor is fake. However, DR Anil had earlier admitted that he was the one who sent the letter to the district secretary seeking the list of party members for appointment to the SAT Hospital. With this, Anil's resignation became certain for a consensus.
Should cooperate to solve the problems in the corporation, says Ministers
The ministers agreed in the discussion that there are problems in the corporation. However, the ministers also asked the opposition leaders to cooperate with the mayor to take development activities forward. The leaders of BJP and UDF pointed out in the discussion that the Mayor is behaving with arrogance and this is leading to problems. Minister V Sivankutty also said that other issues in the corporation can be examined after the school arts festival.
Left leaders C Jayanbabu, Rakhi Ravikumar, UDF leaders Palode Ravi, PK Venugopal, Perunthanni Padmakumar, BJP leaders VV Rajesh, MR Gopan and others participated in the discussion held at the secretariat.