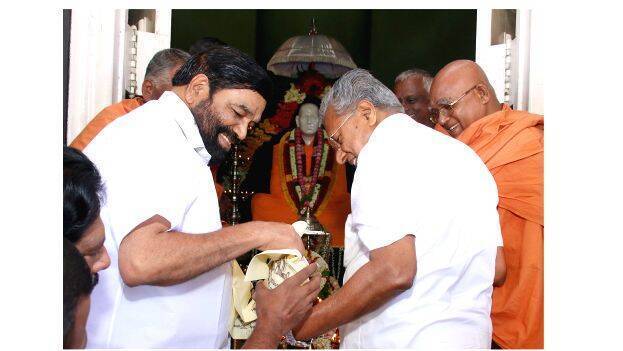 THIRUVANANTHAPURAM: Chief Minister Pinarayi Vijayan said that it was Sree Narayana Guru's intervention that turned Kerala from a lunatic asylum to a human abode and Guru himself is the constant inspiration to maintain it.
He was inaugurating the 90th Sivagiri Pilgrim Conference.
"All superstitions which Guru has put an end to are making a strong comeback now. The human sacrifice in Elanthoor is the latest example. The state government is moving ahead with the legislation banning superstitious practices. Guru's thoughts are an inspiration to end such practices. The media should not publish advertisements promoting such superstitious beliefs. The pilgrimage should change into an awareness conference in which the society understands the contemporary relevance of Guru's messages. Guru defines pilgrimage as that transcending religion and virtue beyond human transformation. Guru said that there is only one caste and that is the humankind. If that vision reaches the global level, racial conflicts, attacks and bloodshed will end. The messages of Guru have such universal relevance. Pilgrim conferences should be a forum for thinkers from all over the world.", CM said.
"The Guru's philosophy of 'a place where everyone lives in harmony without caste division and religious hatred' is meant for human habitable Earth. There is no other guru who has spread such a noble message in the world. In his discussion with Gandhi, Guru's thoughts on 'Varnasrama Dharma' and caste discrimination are based on great human values. It made a big difference even in Gandhi who thought differently on these issues.
Guru had a democratic stance. 'If you have such an opinion, then you can', this saying of Guru should be remembered. Guru's remark to his disciple Sahodaran Ayyappan, who amended Guru's words to say that man has no caste, no religion, and no God, is historical. Guru's principle of treating all sections of people with equality inspired the government's activities.", he stated.
The Chief Minister laid the foundation stone for a multi-storeyed block for the Sivagiri School established by Sree Narayana Guru in 1924 and released the souvenir for 90th pilgrim season.
KG Baburaj, who won the Pravasi Samman of the President, was honoured at the function. Swami Shubhangananda, General Secretary of Sree Narayana Dharma Sangham Trust, delivered the welcome speech and Sree Narayana Dharma Sangham President Swami Satchidananda presided over the function. SNDP General Secretary Vellapally Natesan, Minister VN Vasavan, Adoor Prakash MP, MLAs Ramesh Chennithala, V Joy, Varkala Municipality Chairman KM Laji and Mathews Varghese, Muralya Group Chairman K Muralidharan, Indroyal Chairman Sugathan, Vandannoor Suresh, Swami Rithambharananda, Swami Vishalananda and Swami Sookshamananda were present. Swami Saradananda expressed the vote of thanks.