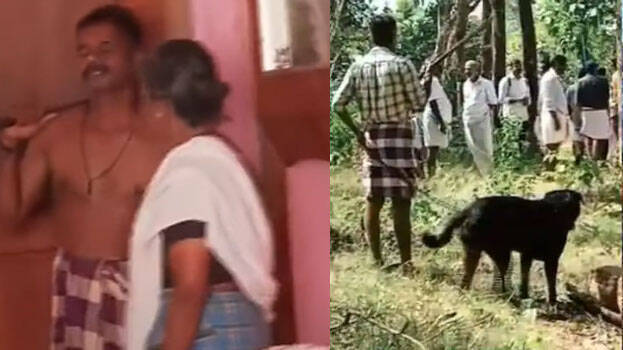 KOLLAM: Dramatic events unfolded in the Chithara where a man attacked a woman with a machete and his dog. Later when the police tried to arrested him at his home, Sajeevan threatened to kill his own mother if the officers tried to enter the house. Sajeevan raised this threat when the police entered the house with the help of trainers who managed to control the dog he unleashed. The fire force team is also with the police. Sajeevan is staying inside the house with his mother after locking the house.
According to the police, there are dogs inside the house. The police have locked all the doors from the outside to prevent Sajeevan from letting the dogs out. Sajeevan threatens to kill his mother if the police come near him. People including Sajeevan's friends tried to persuade him, but he is not ready to give in. He claims that many people have taken away his properties.
Last day, Sajeevan broke into the house of a woman named Suprabha in Kizhakkumbhagam with a machete and his pet dog. The incident happened around 10 am. Sajeev came home with his Rottweiler dog and shouted at Suprabha to get out. Then Suprabha got scared and ran inside the house. Sajeevan claims that Suprabha lives in the property bought by her father. Hearing the commotion, the locals came and tried to persuade him, but he did not relent. Then the police came and turned Sajeevan away.
The police have registered a case against him for breaking into the house and for possessing a weapon. The police asked Sajeevan to come to the station, but he went to his own house, after letting the dogs loose, he locked the gate and went inside the house. The police came to his house and tried to arrest him but failed. Even though the police came yesterday morning, the gate was locked with Sajeevan still inside the house and his dogs outside. Then the police sought the help of the dog catchers.
Locals alleged that it was the fault of the police that the accused was not arrested at Suprabha's house. They say that he has caused similar problems before.