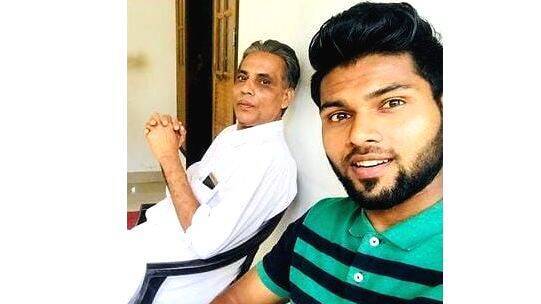 KOZHIKODE: Kerala player Riswan Ali came to know about his father's demise while enjoying the team's victory over Mizoram in the Santhosh Trophy football match held in Kozhikode yesterday. It was his father's wish to see his son as a football player. The news about his father's death has brought tears in his eyes in the moment of victory.
Kasargod Valvakkadu native VP Muhammadali (62) died after collapsing while watching his son's match in the phone around 4 pm. The family decided to inform Riswan only after the match as it was Muhammadali's dream to see his son play for Kerala. Although, Riswan didn't score a goal, he played a crucial role for the team's victory. Riswan couldn't control his tears when he came to know about his father's demise. Friends tried a lot to console him. He reached home by 11 pm.
Before playing the match, Riswan had shared an emotional post in Facebook about his father's role and influence in his growth.
Facebook post from Dec 22:
It was my father's biggest wish to see me playing for Kerala in Santosh Trophy. I started playing football because of him. I was selected for the camp at the age of 16, but I was not lucky enough to get a place in the team. Later, I got a chance to play again for Bengal and Kerala but luck was not in my favour. After many years of waiting, I am very happy that I got the opportunity to wear this jersey for the Kerala Santosh Trophy team. My father is happier than me.