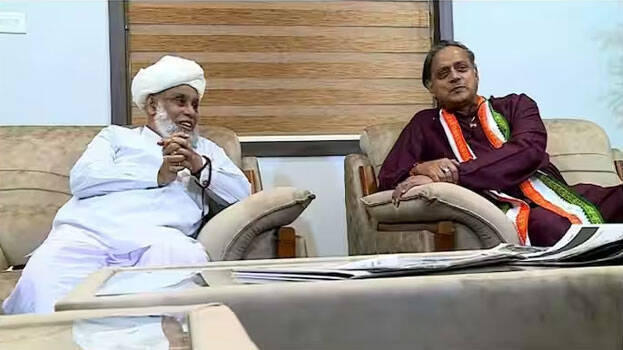 KOZHIKODE: Samastha president Jifri Muthukoya Thangal says that Shashi Tharoor is a 'global citizen'. He was responding after a meeting with Tharoor in Kozhikode.
"Shashi Tharoor is on a tour to strengthen the Congress. There should be a leadership that includes all communities. It is up to the Congress to decide whether Tharoor's leadership will benefit them. I don't think there is any group against Tharoor in the Congress. Our stance will be announced during elections.", said Thangal.
At the same time, Ramesh Chennithala has come out with severe criticism against Shashi Tharoor. "We don't know what will happen after four years. Those who sewed the coat for that can keep it away.", said Chennithala.
It was earlier agreed in the KPCC executive committee meeting that self-declaration of candidature in Lok Sabha and Assembly elections should not be accepted, no matter how high-profile the leader is. Shashi Tharoor also said the other day that he wants to become an MLA.
KPCC President K Sudhakaran also reacted sharply against the stance of the MPs. He said that the party will decide who will contest in the parliament and assembly elections. "Nobody can decide these things on their own. If those who have been members of the Lok Sabha for a long time say that they want to change, we can accept it. But do not decide who will replace you by yourself"., said Sudhakaran.
KC Joseph and senior leader AK Antony also has a similar stance. MM Hasan also said that the MPs can step aside if they want but they can't declare the final decision on their own.