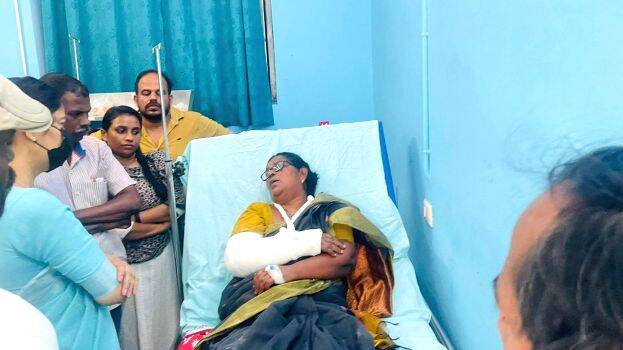 KAYAMKULAM: The CDS Hall in Kayamkulam witnessed violent scenes on Friday after a large number of UDF workers stormed into the meeting called by chairperson P Sasikala defying the UDF's blockade protest alleging corruption and administrative deadlock in the municipal office. After being attacked by the workers, Sasikala fractured her right hand. Congress councillors K Pushpadas and Ambika and a few workers were injured. They were admitted to Kayamkulam Government Hospital. Police took to custody 14 UDF councillors.
The conflict took place yesterday morning. The chairperson called a meeting of the engineers of the Collectorate and the Water Authority to discuss the Amrutam drinking water project. No one was able to enter the chairperson's or secretary's room due to the UDF blockade. When the meeting was going on in the CDS hall adjacent to the municipal building, the UDF councillors stormed in and created a mess.
P Sasikala and others were injured after being hit by chairs. Others' injuries are minor. LDF alleged that there was an attempt to insult the chairperson during the conflict. It was the police that took Sasikala to the hospital.
The maintenance works in the municipality were at a standstill as the assistant engineer of the municipality went on long leave. UDF staged the strike as no AE was not appointed in this place.
Both LDF and UDF later staged demonstrations in the city. Congress councillor K Pushpadas was admitted to the hospital after he fell unwell at the police station. This caused a minor conflict in the hospital. The police later released the arrested UDF councillors on bail to avoid the possibility of conflict as there was a program of Minister Siivankutty in Kayamkulam yesterday evening. The police have registered three cases in connection with the incident.