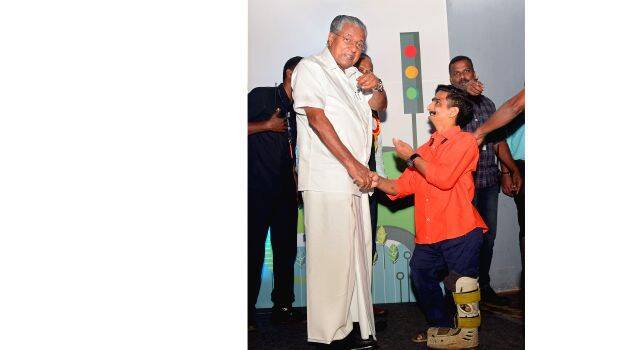 THIRUVANANTHAPURAM: "Can you give me a job sir? I am asking because I want to live", asked 25-year-old Arun Chand to CM Pinarayi Vijayan while he was returning after inaugurating Keltron's golden jubilee celebrations yesterday. Arun Chand, a native of Karakulam, is suffering from 'Neuroacanthocytosis', a rare neurological disease. Arun, an ITI Diploma holder, has completed a one-year apprenticeship from Keltron in Karakulam. Arun, who is 80 percent differently abled, will dislocate his disc if he walks 25 meters. So, his father, K. Jayachandran Nair, takes Arun everywhere on a scooter. Sometimes friends also help. The Chief Minister immediately suggested him to apply to the Industries Department.
Arun was infected with a neuro-related disease when he was one and a half years old. One day, while he was walking, he was unable to place his left leg on the floor. Then treatment at S.A.T. Then there was swelling on the right buttock during treatment. He was immediately admitted to the Ortho of the Medical College. X-rays showed that the joint was dislocated. Although the joint was reattached, his right side was permanently tilted.
After that, Arun started biting his lip. He repeatedly did this. He even tried to lift a hot pan. Although his hands were burnt, he grinned. With this, the parents brought Arun to SAT again. Doctors found that Arun cannot feel the pain. Arun has only six teeth. Doctors say that no medicine has been discovered for Arun's disease. Father Jayachandran, an employee in Keltron, will retire in May 2024. He prays for a job to his son. His wife Usha Kumari is a collection agent in the bank.