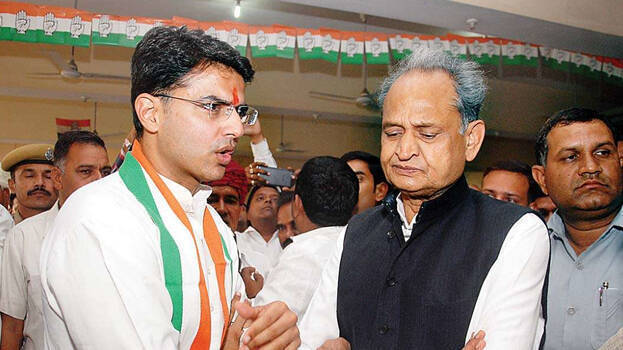 JAIPUR: The cold war between Chief Minister Ashok Gehlot and deputy chief minister Sachin Pilot in the Rajasthan Congress is continuing unabatedly. The spat that started when the Congress government came to power is on the verge of an explosion.

Gehlot has now likened Pilot to coronavirus. A video in which Gehlot saying that a big virus has entered the Congress after the pandemic, has now gone viral on social media. A video of Gehlot's pre-budget meeting with employee union representatives on Wednesday is being circulated. The reference was made without mentioning Sachin's name. Gehlot said, 'I started the meeting... earlier corona came...a big corona also entered our party'.
Likening to virus is a counter to Pilot's repeated attack on Gehlot's government. Sachin has taken a stance of attacking the state government on issues including the question paper leaks. He had demanded the administration of the state be handed over to him.

'I toiled hard for five years, the assembly elections are still ten months away. If we give due respect to all, we can win the assembly elections in 2023,' Sachin had said. Gehlot had earlier raised allegations that Sachin had made moves with the BJP to destroy the Congress rule in the state.