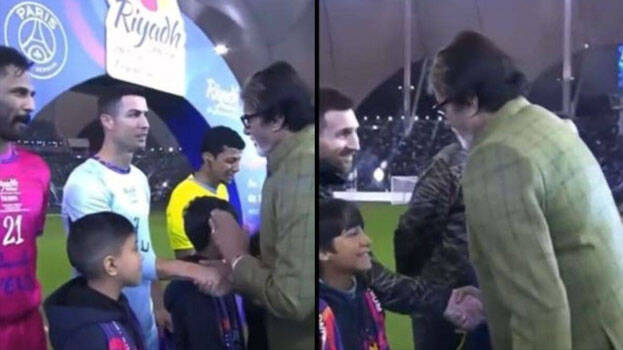 RIYADH: Football legends Lionel Messi and Cristiano Ronaldo played against each other again on Thursday in a friendly which featured other stars like Mbappe and Neymar from the PSG. Obviously, football fans were excited and the fans from India have even more reason to be happy to see Amitabh Bachchan on the field shaking hands with the football superstars.

The actor took to his social media handles and posted pictures and a video from the incredible evening at the King Fahd International Stadium where the friendly between PSG and Riyadh All Stars XI took place.
Amitabh, who was an invited guest to the match, was seen walking on the field and greeting the players ahead of the match.

"'An evening in Riyadh .. ' what an evening .. Cristiano Ronaldo, Lionel Messi, Mbape, Neymar all playing together .. and yours truly invited guest to inaugurate the game .. PSG vs Riyadh Seasons .. Incredible !!!", Amitabh's tweet reads.

Messi and Ronaldo both scored in the match that ended 5-4 in favour of Paris Saint-German.