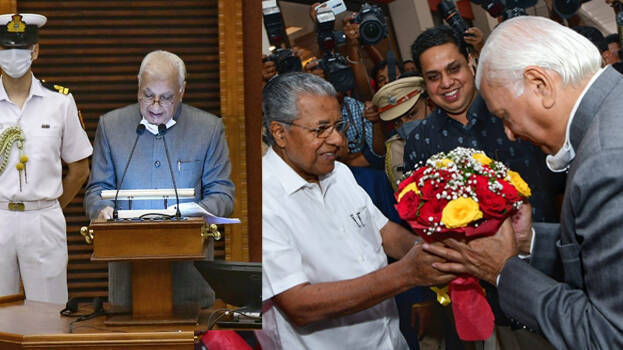 THIRUVANANTHAPURAM: The eighth session of the 15th Kerala Legislative Assembly started in the morning with Governor Arif Mohammed Khan's policy address. His policy address enumerated the achievements of the state. In his address, the Governor highlighted that Kerala is ahead in sustainable development and the state has achieved a proud economic achievement. The Governor said that the legislatures of the states should be protected and the legislative power of the states should be protected.
The Governor in his address said Kerala has achieved economic growth despite crisis. Attained 17 percent growth. The development policy of the state is for the weaker sections. The Life Mission project will continue. Was able to attract investments. The state is at the forefront in solving unemployment. The goal of the state is sustainable development. The Kudumbashree project is a matter of pride. There was a major growth in the industrial sector. Economic federalism is strong. Kerala is a non-segregation state. The Governor said the state is moving forward by accepting diversity.

The policy address criticized the center. A move is underway to stop borrowing by the state. The Governor also said that constitutional values and pluralism should be protected. The policy address speech is still continuing.

Chief Minister Pinarayi Vijayan, Speaker A N Shamseer and others jointly received the Governor. Meantime, the opposition staged a protest raising slogans of governor-government compromise. The opposition reached the assembly with placards.
The session to pass the budget for the financial year 2023-24 will last till March 30. The debate on the motion of thanks for the Governor's speech is scheduled on January 25, February 1 and 2 and the presentation of the budget on February 3.

The government had earlier decided to skip the address due to the spat with the governor, but as things eased, he was invited.