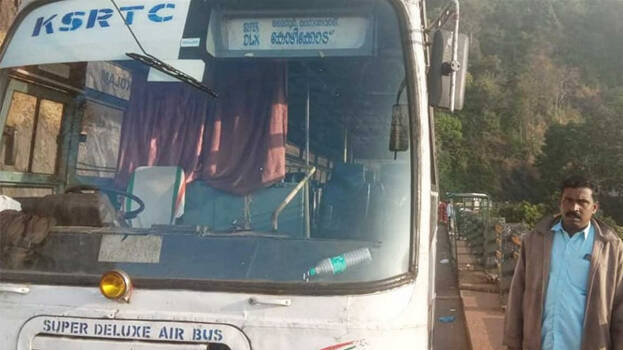 KALPETTA: The brakes of a KSRTC bus full of passengers failed near the viewpoint of Thamarassery pass. Driver C Firoz saved the passengers by applying hand brake to stop the bus. The incident took place at 5 am on Friday morning in the Super Deluxe Air bus which was on its way to Kozhikode.
"I realized the problem when I stepped on the brake to change gear while descending at the beginning of the viewpoint. Then I downshifted the gear and immediately stopped the bus by handbrake. The bus stopped after going three meters forward. There were 37 passengers, including athletes from Calicut University, in the bus coming which was from Bengaluru", the bus driver said. The passengers were informed after the bus was stopped as everyone was asleep.
'There is a big gorge in front, there will be an accident if the bus cannot be controlled. I still get shivers when I remember that moment. I only had to options, one to apply handbrake and stop or to hit the rock on the left side. We managed to escaped without any problem due to someone's prayer", Firoz said. Firoz and conductor Vivek asked the passengers to board the bus that came right behind.