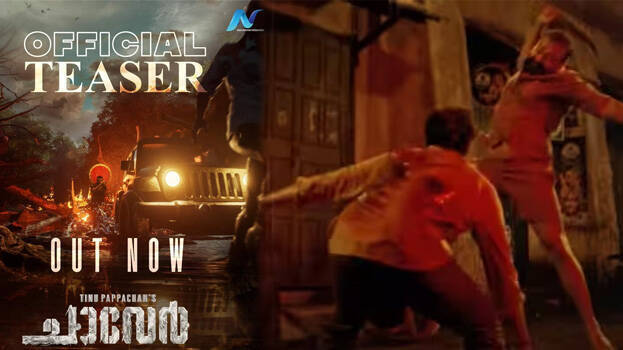 The teaser of Tinu Pappachan and Kunchacko Boban's film Chaveer is out. The teaser gives an indication that Tinu Pappachan and his team have not changed their pattern of storytelling which will usually be filled with action scenes. The jeep which was the main attraction in the title look poster of the film has also featured in the teaser. Kunchacko Boban's character with a knife and Theiyakolam can be seen behind the jeep.
Ever since the news broke out that Chakochan will be playing the lead role in a Tinu Pappachan film, fans have been excited. With Chakochan sharing a picture of his hand injured during the shooting of the film on social media, it was almost clear that Chaaver will have better action scenes than what has been seen so far. The teaser also features Kunchacko Boban in a scene full of violence to put it right. Anthony Varghese and Arjun Asokan are also playing the lead roles in this thriller film directed by Tinu Pappachan after the super hit Ajagajantaram.
KU Manoj, Sajin, and Anurup who are notable for the film 'Thinkalazhcha nishchayam', are part of Chaaver. The movie is written by actor and director Joy Mathew and produced by Arun Narayan and Venu Kunnappilly. PRO: Manju Gopinath. Cinematography: Ginto George.