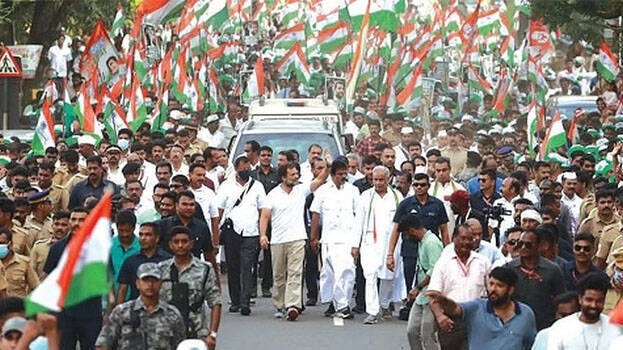 SRINAGAR: Bharat Jodo Yatra led by Congress leader Rahul Gandhi will conclude today officially. Eleven opposition party leaders will participate in the closing ceremony to be held at Sher-e-Kashmir Cricket Stadium in Srinagar at 11 am.

M K Stalin (DMK), Sharad Pawar (NCP), Tejasvi Yadav (RJD), Uddhav Thackeray (Shiv Sena), D Raja, Binoy Viswam (CPI), Jose K Mani (Kerala Congress), Farooq Abdullah (National Conference), Mehbooba Mufti (PDP), Shibu Soren (JMM), N K Premachandran (RSP), Thola Thirumavalavan (Viduthalai Chirutaikal Katchi) and other leaders will participate. Opposition parties like Trinamool Congress, BSP, SP, JDS, JDU and CPM have received invitations but will not attend.

Rahul Gandhi responded that he got an unexpected response from the people during his journey against BJP's politics of hate. He clarified that although some opposition parties will not participate in the closing ceremony, they will stand united against the RSS-BJP agenda. This is just the beginning. Rahul Gandhi said in the press conference that the yatra had an impact at the national level.
Bharat Jodo Yatra started from Kanyakumari on September 7 against central government policies and BJP's political agenda.