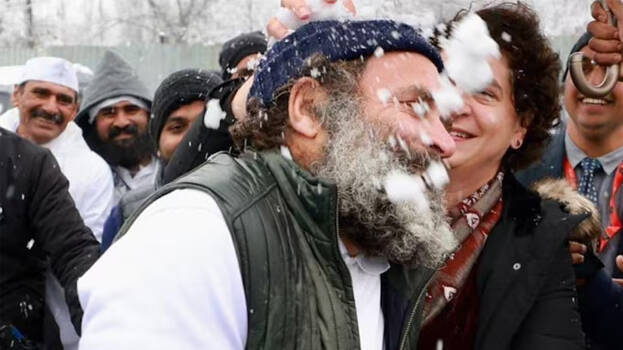 SRINAGAR: Congress leader Rahul Gandhi and sister Priyanka Gandhi plays with snow before the closing ceremony of Bharat Jodo Yatra. The video of them playing with snowballs along with other party workers have gone viral on social media.
In the video, the siblings can been seen hitting each other with snow balls. Rahul Gandhi is also seen throwing snow at AICC general secretary KC Venugopal. Gandhi has shared the video on Twitter. The video received much likes and comments.
Meanwhile, the closing ceremony of Rahul Gandhi's Bharat Jodo Yatra was held in Srinagar amid the heavy snowfall. The Sher-e-Kashmir Cricket stadium where the ceremony was held is covered in snow. Rahul Gandhi reached Kashmir on Friday.