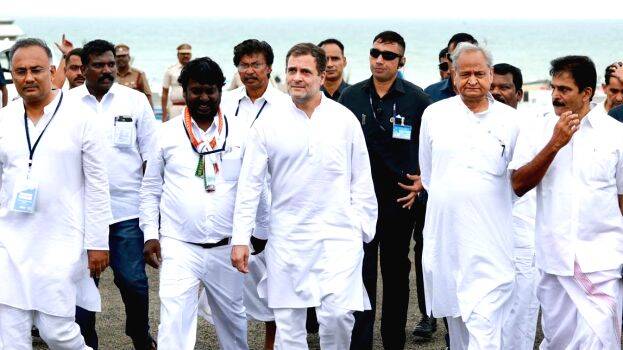 Rahul Gandhi-led Bharath Jodo Yatra ended in Kashmir amidst inclement weather. The walk that traversed through all states over five months' intended to alter the present hegemony of BJP in Indian politics. Rahul Gandhi is often looked at as a Gandhi scion than a politician. His political resume' is no great shake to match the might of the saffron party. Moreover, Rahul ended up facing a bad defeat in the congress fortress of Amethi, nearly putting curtains on his once-touted career.
Defeats and jibes followed but Gandhi had the cojones to face any fight. When the Bharth Jodo Yatra was announced, many sensed a start to another political gimmick. The opposition played out jibes and ridiculed the leader for entering into petty political demagoguery. Strikingly, even the congress legions were ambiguous about the move getting any positive outcome from the people. Now, reaching its tail end, the Jodo Yatra surpassed a long 4080 km and has made it to a talking point. Top leaders, sports personalities, economists and other famed ones from every strata of society joined hands with the leader in support of his initiative. Interestingly, the mentioned leaders and economists are not from congress. Their joining may be on request or a solicited one, but nonetheless, it had a tectonic impact on India's political landscape. Apart from the big names; farmers, unemployed youths and women in large numbers waked along in unison with Rahul Gandhi.
Gandhi has repeatedly proclaimed that the walk is not for him nor the congress but for the people of India to untangle themselves from the Gordian knot of divisive politics offered by the BJP. Across 12 states and 2 union territories, the yatra survived 135 days. In Srinagar, the long trudge will get some rest. The initiative from the congress is praiseworthy as they have successfully managed to permeate the topic into the people through different means. The coming elections, especially in Karnataka will be a testament to the sudden overhaul made in the congress party.
Meanwhile, there are also some fallouts to mention. The group clash within the party is on the verge of breaking all ounces of political decorum. Anil Antony, son of veteran congress leader AK Antony, was forced to quit for simply sharing his opinion regarding the BBC controversy on social media. Albeit raising the divisive stance of the BJP, the congress never succeeded in luring the masses to their side. These predicaments badly need a solution. The congress party should give an eye to these issues, or else they need to arrange another walk after the BJPs landslide victory in 2024.