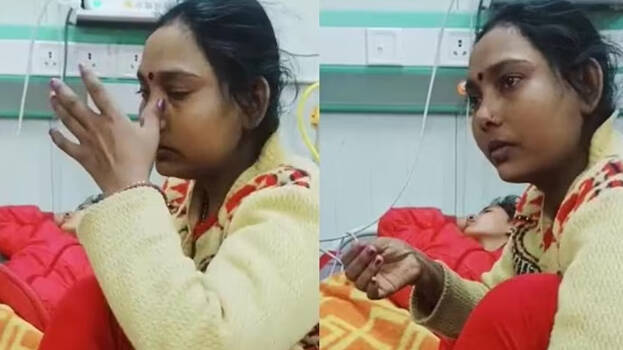 PATNA: In a shocking incident, a woman, who lost both her kidneys, was abandoned by her husband. Muzaffarpur native Sunitha Devi is the one who suffered back-to-back blows in life. Sunitha was undergoing treatment for uterine infection at a nursing home in Muzaffarpur. Her kidneys were stolen during the operation. Sunitha, a daily wage labourer, is in the hospital and is unable to protect her children. Sunitha said that she has three children and that if she dies, there will be no one to look after her child as her husband has abandoned her.

Sunitha sought treatment at the nursing home for uterine infection. However, both her kidneys were stolen by a fake doctor there. Following this, she sought treatment at SK Medical College. The woman's situation is critical. She has to undergo dialysis every alternate day. Although many people have come forward to donate a kidney doctors are yet to find a kidney that matches Sunitha's body.
Until a few days ago, Sunitha's husband Aklu Ram was also with her. He was also ready to donate a kidney to her. However, it was found that his kidney did not match her body. Later, he quarreled with Sunitha and ran away leaving the three children with her. Sunitha's mother is currently taking care of her in the hospital.