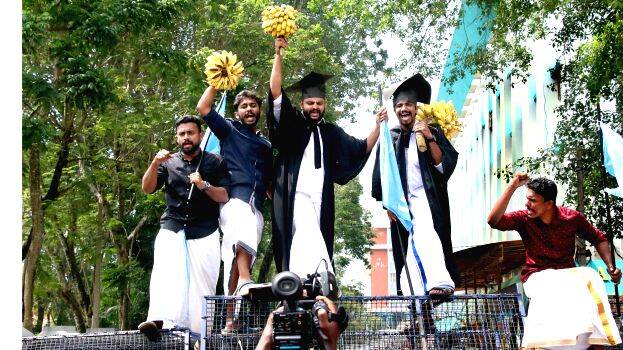 THIRUVANANTHAPURAM: KSU state president Aloysius Xavier said that Chintha Jerome received doctorate degree through the backdoor and the authorities should take steps to cancel it. He added that Chintha is the chairperson who accepts commission. He was inaugurating the protest march held by the KSU state committee to the Youth Commission headquarters regarding the PhD controversy.
"The fact that Chinta Jerome's research paper refers to Vylopilli instead of Changampuzha as the author of 'Vazhakkula' means that the Youth Commission Chairperson does not have a clear understanding of her own thesis.", he said. The KSU activists who held a symbolic protest with a bunch of bananas led to a clash with the police. The activists climbed on top of the barricade and raised slogans. At the end of the protest, around fifteen activists, including Aloysius Xavier, were arrested and removed.
Aloysius Xavier said that the 'backdoor doctorate' in the state following backdoor appointments should be stopped and a complaint will be filed with the authorities demanding the cancellation of Chintha Jerome's doctorate.