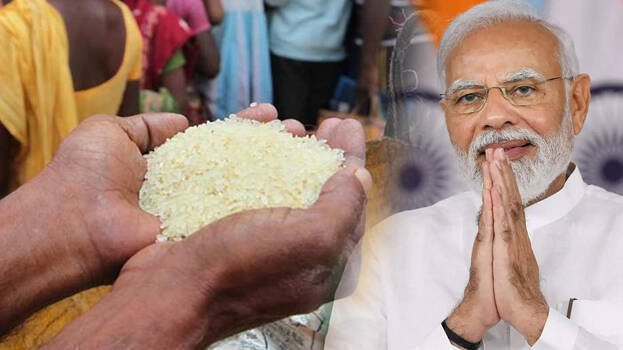 NEW DELHI: The Union government has decided to extend the free food scheme 'PM Garib Kalyan Anna Yojana' for another year. This was announced in the Union Budget presented by the Union Finance Minister on Wednesday. The scheme will provide free 5 kg of food grains per month to 81 crore people in the country. All Antyodaya beneficiaries will benefit from this.

FM Sitharaman called this the first Budget of Amrit Kaal and the blueprint for India at 100. "The results of growth will reach all sectors. The growth rate will reach seven percent, which is a proud achievement despite the global crisis. The country's economy is on the right track", she said. Nirmala Sitharaman spoke of seven focus areas which she termed 'Saptarishi' to guide the government.
Key Announcements:
1. Finance Minister clarified that PM Garib Kalyan Anna Yojana will continue for one more year. The government will bear the expenditure of Rs 2 lakh crore.
2. Emphasis on the three focus areas for youth, ensuring economic sustainability, and increasing economic growth and employment.
3. Rs 2,516 crore to digitalize 63,000 primary cooperative societies.
4. 11.7 crore toilets have been constructed.
5. 157 nursing colleges will be established.
6. Horticulture package worth Rs.2200 crore.
7. Agricultural loan-20 lakh crores.
8. 2 lakh crore for food security.
9. Sickle cell disease will be eradicated by 2027.
10. 6000 crores for the development of fisheries sector.
11. 50 new airports and heliports will be constructed
12. Rs 2.40 Lakh crore capital allocation for Railways