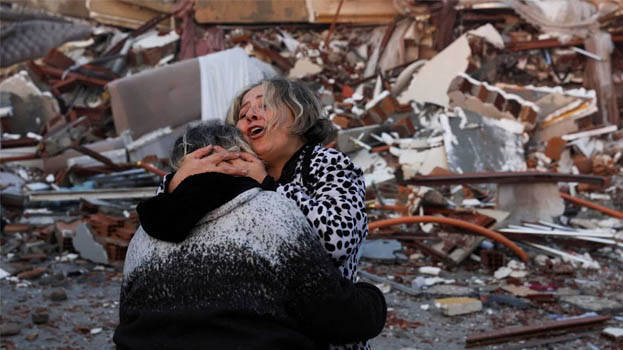 ISTANBUL: The death toll from the devastating earthquakes that struck Turkey's capital Istanbul and Syria is continuing to rise. Both countries are receiving aid from around the world. Meanwhile, Turkish President Recep Tayyip Erdogan, on Tuesday, declared a three-month state of emergency in 10 southern provinces which were hit by massive quakes.
Erdogan's declaration came after the 7.7 magnitude earthquake early Monday struck the Pazarcik district of Kahramanmaras province, then about nine hours later, a 7.6 magnitude quake centred in Kahramanmaras's Elbistan district rocked the region, affecting several other provinces, including Adana, Adiyaman, Diyarbakir, Gaziantep, Hatay, Kilis, Malatya, Osmaniye, and Sanliurfa.
Meanwhile, a severe winter storm hit earthquake-ravaged Syria, hampering rescue efforts. The winter storm has left several roads impassable. The delivery of aid and food supply was also hampered.
It is estimated that 3549 people in Turkey and 1602 people in Syria died in the earthquake.