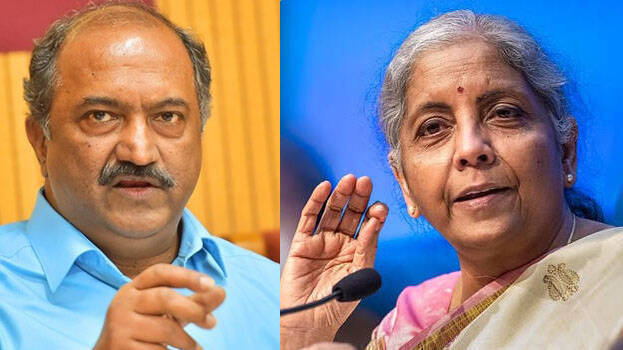 NEW DELHI: Union Finance Minister Nirmala Sitharaman justifies non-payment of GST compensation dues to Kerala. The Finance Minister said that the state has not submitted the correct documents for five years and that is why the compensation is not being paid. The Finance Minister's reply came when Kollam MP NK Premachandran raised the issue in the Lok Sabha.
GST compensation is allowed to the states on submission of audited figures. But Kerala has not provided this for five years. "Kerala has not presented the document for GST compensation approved by the Accountant General for even one year since 2018. How can the Center be blamed for not allocating the funds," the minister asked. Finance Minister asked NK Premachandran to first enquire with the Kerala government in this regard.
The Centre introduced the GST compensation amount to compensate for the revenue loss faced by the states since the implementation of GST on July 1, 2017. The expert committee recommended that the GST rate should be shared by the states and the Centre in a ratio of 60:40, but currently, the revenue is shared equally.
Premachandran's question is factually incorrect, Centre owes Kerala only Rs 750 crore as dues: KN Balagopal
Kerala Finance Minister KN Balagopal on Monday said that there is currently no dispute between the Centre and Kerala over the GST dues to be received by the state. Taking to Facebook, Balagopal stated that the question raised by NK Premachandran MP regarding the GST dues in Parliament was factually incorrect.
'The Centre owes Kerala only Rs 750 crore as arrears. By raising such questions, some people are trying to hide the real issues by making it appear that there is a dispute over issues where there is no dispute,' he wrote.
'The state has been submitting figures correctly. That is why the Centre paid all the instalments. The issue raised by Kerala is related to the reduction of allocation to the states. With the stopping of GST compensation, the state suffered a loss of around twelve thousand crore rupees,' he added.