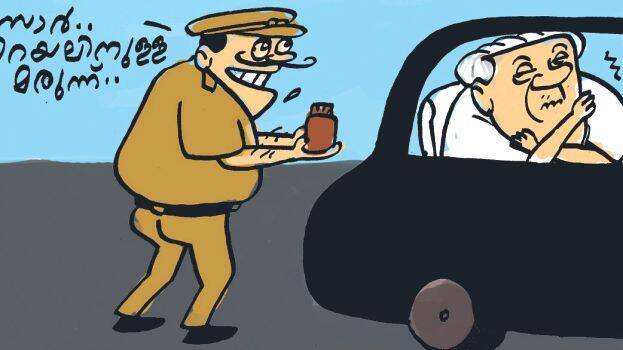 THIRUVANANTHAPURAM: The DGP has instructed the police not to compromise on the Chief Minister's Z-Plus security, no matter how much criticism there is. This is in view of the Maoist threat in addition to the protests by the opposition.
Although a controversy had erupted the other day after the police stopped a person who was on his way to buy medicine for his child in Kochi on security grounds, the police continued to provide heavy security for the CM. On Tuesday, the police closed the road near the Mascot Hotel in Thiruvananthapuram for half an hour and stopped pedestrians and vehicular passengers ahead of the Chief Minister's arrival at the Mascot Hotel to attend the meeting of IAS officers. Fearing the black flag protests, more police were deployed on the spot.
40 police personnel, including 28 commandos, will always accompany the Chief Minister. There will be five police officers n the car in front. The CM's convoy includes 10 people in two commando vehicles, 8 people in a rapid inspection team, a striker force, a bomb squad, a dog squad and an ambulance. A pilot car, two escort cars, and a spare car will also be present. The SISF and Rapid Action Force will also be deployed at the events in which the CM is taking part. 40 police officers, including SHOs from adjacent stations, and five DySPs will also join the convoy. This will take the number of vehicles in the CM's convoy to 16. A medical team and fire department trucks will be present at the venue.
The public will be kept at a distance of 200 meters away during public events and trips of the Chief Minister. Roads, including minor roads leading to the main road, will be closed when the Chief Minister's convoy passes through. Police will be deployed on both sides of the road half an hour before. Vehicle parking will be prohibited. Other vehicles will be stopped 15 minutes before. Two hours prior to the event, police will assume control of the Chief Minister's venue and the location of the event.
Police wall in capital
When the Chief Minister moves through the state capital, police will be stationed every ten metres. To provide security at Cliff House and Secretariat, about 500 police have been deployed, including armed battalions, local police, SISF, and Rapid Action Force. There will be restrictions on people's access and use of buildings.
Oommen Chandy
Although the police had recommended Z category security to former Chief Minister Oommen Chandy, he avoided it considering the hardship of the people.