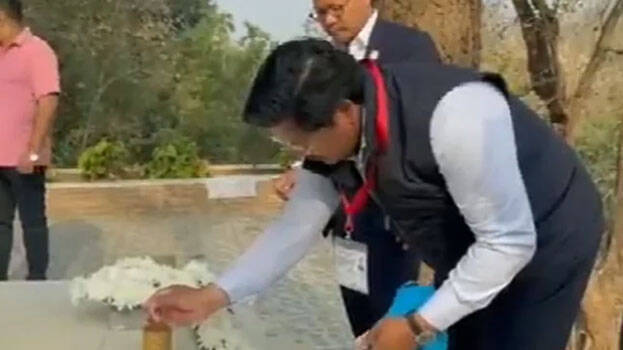 SHILLONG: Chief Minister Konard Sangma visited his father's grave ahead of the election assembly results in Meghalaya. He visited the grave of P A Sangma, former chief minister of Meghalaya. His mother Soradini K Sangma, brother James Sangma and sister Agatha K Sangma accompanied him.

Meantime, the Meghalaya Democratic Alliance (MDA), a BJP ally, has almost secured power in Meghalaya again. When the reports last came in, MPP is leading in 25 seats and BJP in four seats. 31 seats are required for absolute majority. Reports hints that no coups are likely to happen here.
The Congress, which was the single largest party in the assembly elections in 2018, got only five seats. The Trinamool Congress, contesting with the aim of making its presence in Meghalaya, is leading in seven seats. After the assembly elections in 2018, the NPP, UDP and BJP made an alliance and came to power, but this time, the NPP and the BJP contested alone. The lead level indicated that the BJP decided to contest alone with the hope of making significant gains, but could not do so.
The counting of votes in the states of Tripura, Meghalaya and Nagaland started at 8 am today. Tripura went to polls on February 16. Nagaland and Meghalaya on February 27. Exit polls predicted that the BJP would retain power in Tripura overcoming the challenge of the Congress-CPM alliance. The exit poll results in all the three states were not in favor of the Congress.