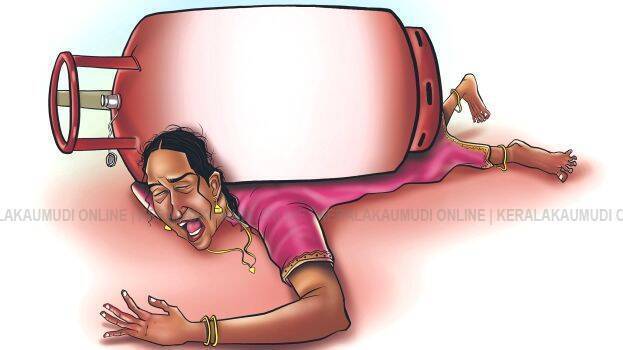 The rise in prices of daily-use items affects the lower and middle classes of society the most rather than the rich. It is such people who are suffering the most due to the steep rise in fuel prices. Apart from this, the oil companies have now made things more difficult by increasing the price of domestic cooking gas by Rs 50 and commercial cylinders by Rs 351.
The domestic cylinder will now cost Rs 1112 in Thiruvananthapuram. Apart from this, there will be a five percent GST and the distributer's fee. The subsidy which was earlier received by all is now not available to the majority of people. The central government had removed the price regulation on cooking gas by claiming that the price of gas will increase and decrease depending on the market price. However, the price is only going upward. In the last two years, there has been a two-fold increase in the price of cylinders for domestic use. The pockets of those depending on hotels for food will become empty as a result of the current price hike. There is no difference between central and state governments in increasing the prices of fuel, milk, gas and daily use items. In addition to all this, Kerala has raised the cost of electricity and water. Development should not be made by making people's lives difficult. No government increases the rates of any service under its control before an election. They know very well that they will face setbacks in elections if they increase the rates. Hence, those who are in power raise the price of services after elections or in non-election years. There is no political difference in this. The poor have the most votes. They are the ones who will have to bear the price hikes no matter what government comes.
The central government is gaining more than 20,000 crores per annum just by saving cooking gas subsidies. The subsidy was lifted in 2020 when the cylinder price reached Rs 594. However, the Centre did not restore the subsidy even after the prices went up. It makes no sense to say that the oil companies are the ones raising prices and that the government cannot do anything. It is with the knowledge of the government if the oil firms know not to raise prices during election season. Crude oil prices are currently low in the international market. Apart from this, India also gets cheap oil from Russia. The companies increased prices in such a situation only to reap more profit. Inflation remains high at over seven percent. Due to the increase in bank interest, those who have obtained loans find it difficult to get out of the debt trap. The hike in the price of cooking gas in such a situation cannot be justified in any way. The central government should immediately withdraw the hike in prices or restore the subsidy as the common man's family budget is so messed up.