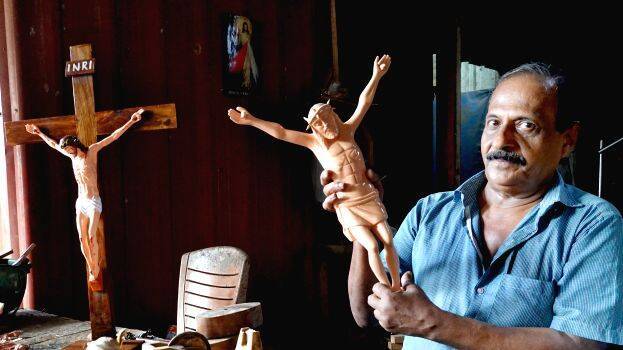 KOTTAYAM: Christ is faith and comfort to the Baby who earns his living by making figurines of the crucifixion of Christ. He can make figurines using wood, plastic and fibre and even concrete. His figurines have so much demand that people even come from Delhi, Mangalore and foreign countries like France and America to buy them.
Baby Cyriac was studying at a school in Mannanam when he developed a special interest in figurines of Christ. At that time, he used to buy figurines of Christ and sell them in other shops. The idea of ​​making figurines and selling them on his own came to him when he faced financial difficulties to pursue further education. He then hired two carpenters as his assistants and learnt to make figurines out of wood from them. The initial investment was Rs.25,000. In the beginning, he used to visit shops, churches etc to sell these figurines.
He makes the cross of Christ using teak and cashmere tree. The figure of Christ is made using plastic or fibre. Following this, the figurine of Christ will be stuck on the cross. He also carves the figure of Christ on Cashmere wood. Now, there are 10 staff for moulding, painting and artwork at Baby's Marina Art Center. His wife is Regimol, a schoolteacher. Children: Kiran and Angel.

Baby will make figurines that range in height from five inches to 24 feet. He sells figurines of five-inch height for Rs 11 and six-inch for Rs 18. Some figurines range in price from Rs 8000 to Rs 3 lakh. It will take one day to three weeks to make the figurines.