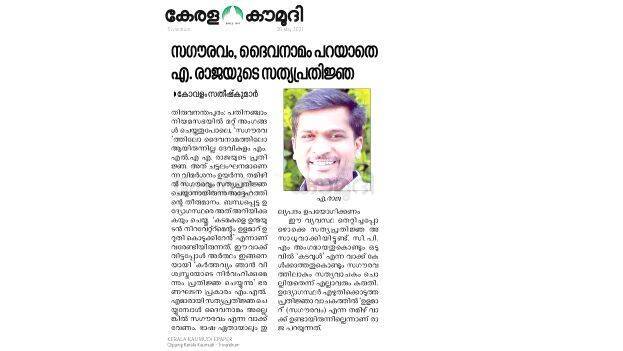 THIRUVANANTHAPURAM: A Raja, who was Devikulam MLA, made mistake while taking oath as an MLA. He retook the oath after Kerala Kaumudi pointed out the mistake and had to pay fine as well.
The oath taking ceremony was on May 25, 2021. Raja's decision was to take the oath in Tamil to show his loyalty to the Tamil people in Devikulam. He did not say whether the oath was taken in the name of God or by solemn affirmation. He also used the wrong Tamil word 'unmayudan' for 'solemn or sagauravam'. Kerala Kaumudi, which reported this on the 26th, pointed out the error. Then, Speaker MB Rajesh asked the assembly secretariat for a report. The reason was found to be a translation error by the law department. Raja was sworn in again on June 2. He had to pay the fine because he was in the assembly before oath taking ceremony.
The CPM was the last to decide the candidate for Devikulam in the last assembly elections. There was a difference of opinion within the party regarding Devikulam. Raja was a DYFI state committee member and CPM area committee member while contesting.
After A Raja was nominated, former MLA S Rajendran clashed with the CPM district leadership and there were allegations within the party that Rajendran had made a move to defeat Raja in the election. MM Mani confirmed this and Rajendran was suspended by the party for one year.