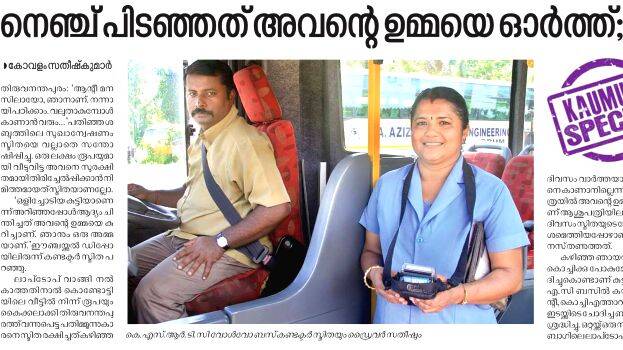 THIRUVANANTHAPURAM: When the news broke out about the incident of an eighth grader being dropped on the highway by a female conductor for giving her a torn note, KSRTC employees were thinking about their colleague Smita. That incident was on June 5, 2015. A 13-year-old boy boarded the bus from Thampanoor bus stand to Ernakulam asking, 'Will you go to Lulu Mall?' Some doubted this boy who was sitting with his laptop bag. Is it stolen?... Conductor Smitha made him sit in the seat behind the driver. Inside the bag is a new laptop. He looks at it from time to time. When asked where it came from, he replied, 'It's mine'. The woman conductor's intervention was not limited to saving the child's pride from the suspicious eyes of the passengers by saying, 'He is a good boy'. It went as far as returning him to the family who was crying over the loss of the child. The child had come from Kozhikode after quarreling with his family. Smita was then a conductor at the Enchaikkal depot.
I am also a mother: Smitha
"I am also a mother. When I came to know that the child had come leaving home, I felt his mother's despair," Smita said to Kerala Kaumudi. The boy's bag had the phone number of the shop in Kondotty from where he bought the laptop. I contacted them and came to know that he took money from home and left because they did not buy him a laptop, and the family is waiting after filing a complaint with the police. The child was convinced by persuasion and the information was passed to the police. When the Karunagapally police arrived, the child was handed over. When he got home, his mother called and thanked me- Smitha happily recalled the incident. Then all the relatives came to meet Smitha. Recently, Smitha was recognized by the child's relatives while on bus duty to Kovalam. They called the child's mother and talked through video call. Smitha is currently working in the KSRTC control room.