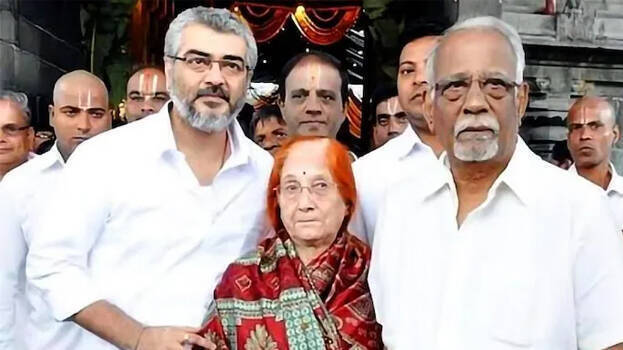 CHENNAI: Tamil actor Ajith Kumar's (Thala Ajith) father P Subramaniam passed away at his residence in Chennai. He was 84. His health deteriorated after suffering a stroke. Many film dignitaries and Ajith's fans paid tributes to the departed soul. His last rites will be held at the crematorium in Basant Nagar.
Subramaniam is a native of Palakkad. He leaves behind his wife Mohini and sons Anup Kumar, Anil Kumar and Ajith Kumar. His daughter-in-law is Shalini, a former actress.
Ajith is on a holiday with his wife Shalini and kids in Europe and is expected to reach Chennai soon.
A joint statement by all three sons reads
'Our father, P S Mani, passed away in the early hours of Friday morning, in his sleep, after a long illness. He was 85. We are grateful for the care and support provided to him and our family by a number of medical professionals, especially following his debilitating stroke of four years ago.

We are comforted, at this time of grief, that he lived a good life and knew the undying love of our mother, his partner of nearly six decades. We appreciate the kind, comforting messages and condolences that have been coming in and ask for your understanding if we may not be able to take calls or respond to messages in a timely manner.

His last rites will be a family affair. We trust that all who have known loss will respect our wish to grieve privately and deal with his passing with as much equanimity and dignity as possible."