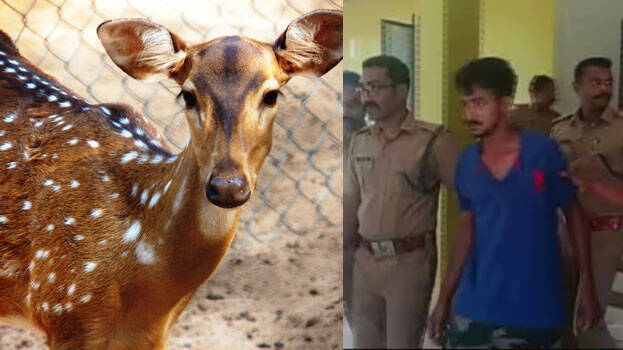 MALAPPURAM: A man accused of killing a deer was caught by the forest guards. The person who was with him ran away. The arrested has been identified as Kandanchira Ayyoob (28), a resident of Chembankolli in Chungathara Panchayat. He was caught by Nilambur Forest Range Officer KG Anwar and his team.
Apart from the deer meat, an unlicensed country gun, ammunition and bike used for hunting were also taken into custody. Two electronic cables, four knives, two headlights and a weapon sharpener were also recovered from the accused's bag. The accused was caught during a search led by Range Officer Trainee Muhammadali Jinnah and Deputy Range Officer K Girishan following a tip-off.
After hunting the deer, the accused kept the meat wrapped in a plastic bag on the back of the bike. This was when the forest guards apprehended Ayyoob. Meanwhile, Mujeeb, who was pillion riding with Ayyoob, ran away. The spotted deer has bullet marks along its body. After killing the animal, its neck was cut off and internal organs were taken out.
Section forest officer CM Suresh, beat forest officers T Shakir, NK Ratheesh, M Sudhakaran, N Ashif, CPO Arjun and driver Rasheed were also in the team. The police will also file a case against the accused under the Arms Act for using an unlicensed firearm.