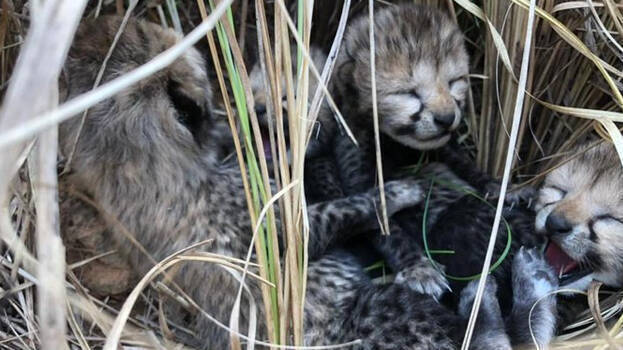 BHOPAL: One of four cheetah cubs born to the cheetah brought to Kuno National Park from Namibia has died. The cheetah cub named Jwala is the one that died. Authorities informed that the baby cheetah was found dead in the morning. The initial assessment is that dehydration is the cause of death. It is after 70 years that cheetahs were born in India and it was one among them that died.

Two weeks ago, a female cheetah named Daksha had died in Kuno. The cause of death was fatal injuries from encounters with other cheetahs. Of the eight cheetahs brought from South Africa, two had already died due to illness. Now, with the death of one more cheetah cub born in India, the total number of dead cheetahs has risen to four. Last month, a cheetah named Uday fell ill and died while undergoing treatment in Kuno National Park. A female cheetah names Sasha had died of kidney issues earlier.
It was in September last year that India brought eight cheetahs, including five females and three males, from Namibia as part of 'Project Cheetah'. As part of the Intercontinental Cheetah Translocation Project, eight cheetahs were brought to the country in a cargo flight. Later, the cheetahs were brought to Kuno National Park from Gwalior Air Force Station by an Indian Air Force helicopter. Prime Minister Narendra Modi was the one who released the cheetahs in Kuno.