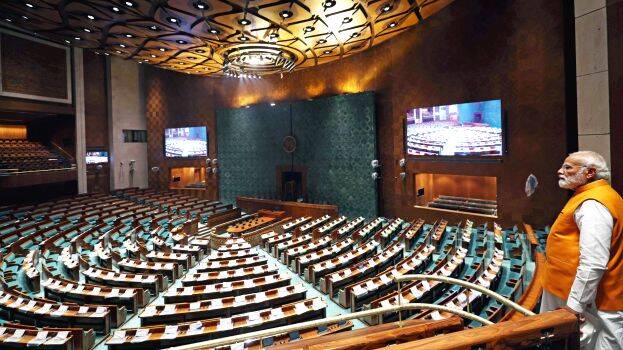 On January 18, 1927, it was viceroy Lord Irwin who inaugurated India's parliament house. Famed architects Edwin Lutyens and Herbert Baker designed the majestic building and the city by large. On 2020, December 10, India's PM Narendra Modi laid the foundation stone for the new parliament building which comes under the PM's touted centra vista plan to reshape the old relics of British Delhi to adorn new colors of nationalism. Bimal Hamukh Patel, an urban designer was selected to reshape Delhi's posh nooks and corners.
The old parliament building carried an air of British India. The building and the intricate works of Lutyen still tower in precision and beauty. However, over 100 years passed since the building stood the test of time. Delhi is an epicenter of earthquakes, and there lies no guarantee about the durability of the building to surpass any such tremors in the coming years. The BJP government at the center has made some deliberations and has discerned the time acute to raise a new building that calls for Indian ethos more than anything. The old British vestige is still palpable all over Delhi and notably, the Raisina hills.
The completion has moved at a swift pace and the inauguration will be completed two months earlier than the promised date. It is a moment to cherish for all Indians since this parliament building will get into the annals and will witness historical events for more than 100 years to come. However, it is dispiriting that many opposition parties have found ways to grab headlines just by adopting the usual demagoguery. Everything reeked of politics as 19 opposing parties decided to skip the inauguration event as they found the democracy being sucked out of the parliament by an authoritarian PM. There is also a current row over the PM inaugurating the building but not the president.
" It was not BJP's money that built the parliament but tax paid by poor in India" This was the response from major opposition parties and their coteries. However, the same parties earlier raised their voice deploring the new parliament saying the country was passing through dire financial straits and the building was an added extravaganza.
Not resorting to that, the opposition also played the Dalit card deftly to make the PM back out from the inauguration. 'President Droupadi Murmu was distanced from the event for being a Dalit" went the popular chatter among opposition sections. The irony is, the same opposition never minded casting a vote in favor of a Dalit Murmu but made a mandate for Yaswanth Sinha who was the opposition's presidential candidate. Meanwhile, swimming out from the pack, BJD from Orissa has issued a press note confirming their participation in the inaugural event.