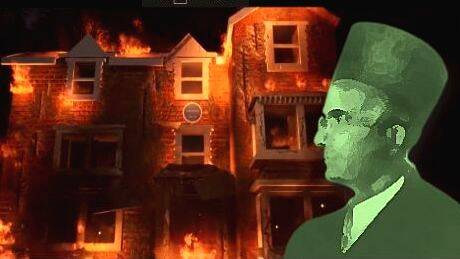 NEW DELHI: Thiruvavaduthurai Adheenam Pontiff handed over the sceptre known as Sengol to PM Modi scripting a new chapter in the history of Indian politics. PM Modi thus inaugurated the new parliament building which earlier impressed even a stoic Shah Rukh Khan. The ceremony was much celebrated and as expected PM Modi took the spotlight with images pouring in torrents showing the PM embracing a sandal paste on his forehead clutching strong on the sceptre and trudging down the steps of the central hall.
However, amidst the gala over the celebration, inside the central hall, one defining moment marked today's peculiarity.PM Modi paid floral tributes to the image of Veer Savarkar and stood in silence bowing at the portrait of the former.
Today marks the 140th birthday of Veer Savarkar. The day was zeroed in by the Modi govt to inaugurate the new parliament. Big rupture emerged from the opposition chamber when the coincidental dates got out earlier. Savrakar is loathed by all opposition parties. The Hindutva ideologue has earned quite many cynics posthumously with his 'radical' thoughts and writings. The accusation over Gandhi's murder, the bigoted religious angle, and the call for a Hindu India distanced Savarkar from contemporary politics. However, the 2014 regime change gave an upliftment to the earlier ridiculed image of Savarkar.
Modi's floral tribute and Sangh's constant push to bring Savarkar to the forefront of all topics is paying its dividends. Today, megastar Ram Charan announced a mega pan-India film under his production house, 'The India House' on Sunday (May 28). Veer Savarkar lived in London's India House from 1906 to 1910 while he was in exile. The house played a vital role in linking Indian revolutionaries at the time and acted as a centre for Indian political activities. Yes, the movie is made as a tribute to Sangh's ideological brain, the revered Savarkar.
Meanwhile, Randeep Hooda from Bollywood has countered Ram Charan with a teaser release of the movie, 'Swatantreeya Veer Savarkar'. It is raining movies on Savarkar these days. The prospect was totally unthinkable like ten years before, as the leader carried a dented image within populi and no actor would have had the cojones to do a movie and make it a hit. However, the tides are changing and more movies are sure to hit the screens eulogizing Sangh's ideologies. Time is the only answer to whether these art forms can shipshape the dented image of the most misunderstood leader of Indian politics.