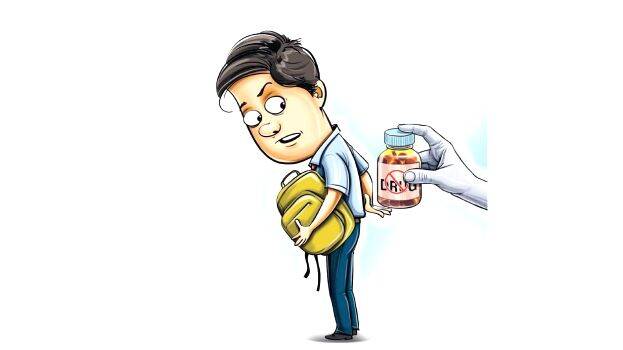 The schools in the state will reopen on Thursday and it is no relief for parents in Kerala. The drug gangs are waiting for a perfect chance to ambush and lure school students into the drug business. There are more than good reasons for parents to worry. The excise found almost 1140 cases of drugs inside schools in Kerala. The numbers in college are more abysmal and better not be told. The 1140 cases are concerning in all aspects since last September the cases were only 250. The drug gangs are simply burgeoning in business and it is crosshairs for parents in the state.
The school students will be used as carriers. There won't be any consideration of gender but the dealers mostly prefer young girl students. The revelation from one girl student from Kozhikode busted the secret deals run by such groups which told the involvement of students even from class 7th. On another note, the parents will have a difficult time checking about drugs since the new synthetic one is colorless and odorless. The dealers trade with students for Rs 100 assuring ten hours of pure trance. Stamps are widely traded and are Afghan made.
Kerala heard the news in shock when Kochi police commissioner K Sethuraman acknowledged the drugs running big business among school-going children. He even said children of prominent names in police are addicted to drugs. Such families are tormented and more can be explained by the curious case of the death of a girl inside the police quarters in the capital. She was addicted to drugs but the police failed to find any roots since the girl traveled to school via the police bus.
On another note, actor Tini Tom revealed not allowing his son to enter the film business since he feared the drug mafia reigning the reel world. The tacit approval from the actor turned the impetus for the Excise to spring into action conducting sudden inspections of film sets.
Adding more to the worry came the National Narcotic Control Bureau's busting of Rs25000 crore worth of drugs which came all the way from Pakistan. The cargo was headed to Sri Lanka but the vigilante eyes of the officers stymied the movement and arrested the foreign traders.
The drug lobby is sauntering near school premises for easy business. The children are vulnerable and can turn into better carriers, not calling for doubts from any. Excise and police should do the needed work to net all gangs which have now tilted eyes at the young ones in the state. The CM himself should engage in the case for the retributive actions to channel some pace.