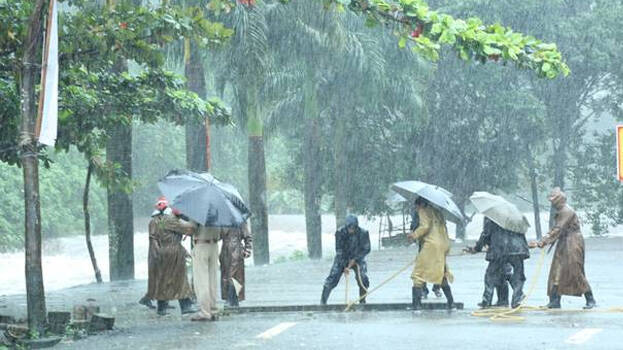 Chief Minister has suggested emergency measures to deal with rains
THIRUVANANTHAPURAM: With only days left for monsoon, no measures have been taken to prevent disasters from the rains in the districts that have experienced floods in the past. In many cities, there are broken drains, ditches that have stopped flowing due to waste materials, and pits that have not been covered due to the installation of pipes that are yet to be paid attention to.
Chief Minister Pinarayi Vijayan directed the State Disaster Management Authority meeting convened yesterday to intensify pre-monsoon preparations.
It remains to be seen how much all this will bear fruit in a short period of time. As the unpredictable nature of rainfall availability is expected, a review of monsoon preparedness in the districts should be conducted in the first week of every month. The meeting should be led by the ministers in charge of the district or the district collectors. The progress of each work should be reviewed.
The meeting was attended by Ministers K Rajan, P Prasad, Chief Secretary VP Joy, Home Secretary Dr. V Venu, Disaster Management Principal Secretary Tinku Biswal, Member Secretary Shekhar Kuriakos, Department Secretaries, State Police Chief, Fire Chief, various Central Force representatives, District Collectors, etc.
Instructions
Aapda Mitra, Civil Defense, Volunteers, etc who have been trained should be given the necessary equipments for local rescue operations.
Rescue equipment should be collected in all local bodies. This will be beneficial to initiate local rescue operations without wasting time in case of accidents.
The amount required for this will be allocated from the Disaster Response Fund.
1 lakh to each gram panchayat, 3 lakhs to each municipality and up to 5 lakhs to the corporation for the purchase of equipment and storage center as prescribed by the State Disaster Management Authority.
If more equipment is needed, the local bodies should raise it themselves. The purchased equipment should be kept in a reusable manner under the supervision of the Fire Safety Department after the rainy season.