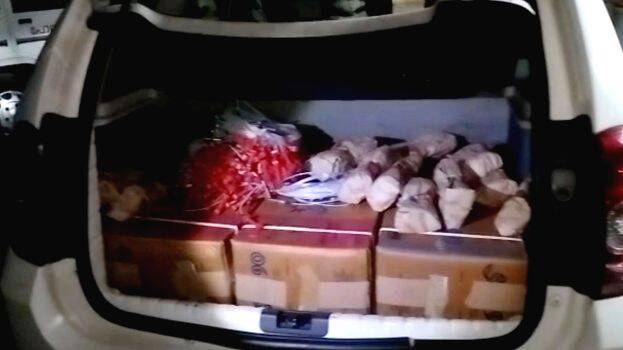 The accused tried to commit suicide by cutting the nerve of his arm
KASARAGOD: The excise team caught a man with a huge collection of explosives in his car. Muhammad Mustafa (42), a native of Povval Kettungal, was the one who got arrested. Kasaragod Excise Special Squad Inspector GA Shankar and his team conducted a vehicle search at Cherkala Kolachi around 2 am on Tuesday and seized the stock of explosives being smuggled in a Duster car.
Kasaragod Excise DySP PK Sudhakaran and Adhur CI A Anilkumar were informed later and the accused and the explosives were handed over to the police.
2800 gelatin sticks, 6000 detonators, 500 special ordinary detonators, wires, dynamo etc. were recovered. Explosives were also found in the raid on his house. Here, the accused Mustafa tried to commit suicide by cutting the vein of his hand with a blade. He was then admitted to a private hospital in Kasaragod. The accused and the car is under police custody.
The Excise team that seized the explosives included Inspector PG Radhakrishnan, Preventive Officers K Sureshbabu, K Unnikrishnan, Civil Excise Officers C Ajeesh, V Manjunathan, K Satheesan, M Hameed, Excise Drivers PV Dijith and PA Christine and the police team included SI Balu P Nair, Senior Civil Police officer Ashokan, civil police officers Nishant, Suresh and driver Harish.