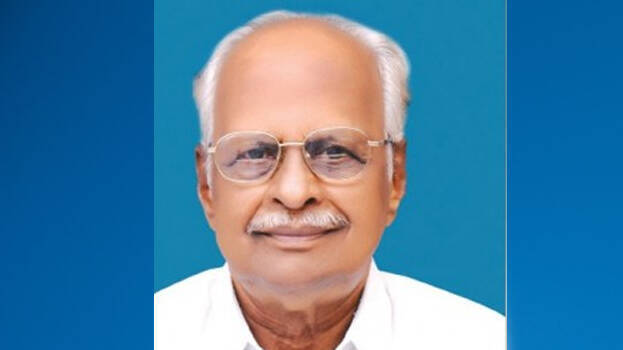 THIRUVANANTHAPURAM: Padma Shri recipient, writer, scholar and linguist Dr Vellayani Arjunan has passed away. He was 90. He died at his residence Wednesday morning at 9.15 am. He will be laid to rest at 8 pm today.
He was born to P Shankara Panicker and P Narayani on February 10 in 1933 at Ponnumangalam Kurumi Kunnathu Veettil. He post graduated in Malayalam from Thiruvananthapuram University College and then started his scholarly journey.
After his MA, Shooranad Kunjanpilla appointed him as an assistant in Lexicon. Later R Shankar made him a Malayalam lecturer in S N College. He was attracted to Hindi Pracharsabha classes since school. He studied Hindi privately and passed MA. He was appointment as Malayalam teacher in Aligarh Muslim University. He took PhD from the university in 1964.
After his PhD, he got three D Litt degrees from three universities. He was in Aligarh for nine years. Meanwhile, post graduated in special Hindi and in English literature with distinction. The government at that time appointed Dr K M George as the chief editor of the Malayalam Encyclopedia. Dr Vellayani Arjunan came there as the head of the department. Dr K M George's systematic work resulted in the publication of volumes one and two of the encyclopedia. Achutha Menon Government appointed Dr Vellayani Arjunan as the chief editor and director when K M George retired.
He had authored about forty books. He is a recipient of twenty awards. The country honoured him with Padma Shri in 2008.
He leaves behind his wife Radhamani and children Dr Supriya, Sahithi, Dr Rajasree and Jayashankar Prasad.