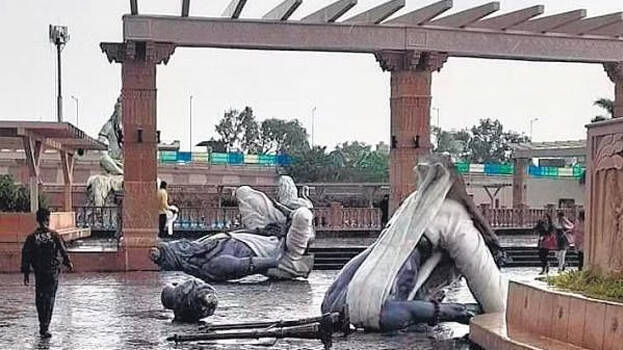 BHOPAL: A controversy has broken out in connection with the incident in which six 'Saptrishi' idols installed at a cost of crores at the Mahakal Lok corridor collapsed due to strong winds in Ujjain. The Congress has come out raising allegations of irregularities in the construction of the idols. With the assembly elections around the corner, Congress is set to use this issue as a political weapon against the Madhya Pradesh government.
According to the opposition, the idols were easily toppled by strong winds as the BJP government compromised the construction of the Saptarishi statues. It said that the BJP had "fiddled with the faith" of crores of Indians by indulging in "corruption" while building the idols.
"In Karnataka, we had given a slogan of 40 percent sarkar. A similar scam has come to light in Madhya Pradesh. That too in the Mahakal Mandir of Ujjain. The BJP didn't keep even the sacred Mahakal away from its loot. They didn't even spare god)", Congress MP JP Aggarwal said.
The Madhya Pradesh Lokayukta has announced an inquiry into the incident. Works worth Rs 419 crore have been done so far in the first phase of the Mahakal Corridor project which will cost Rs 850 crore. Prime Minister Narendra Modi inaugurated the first phase in October last year.