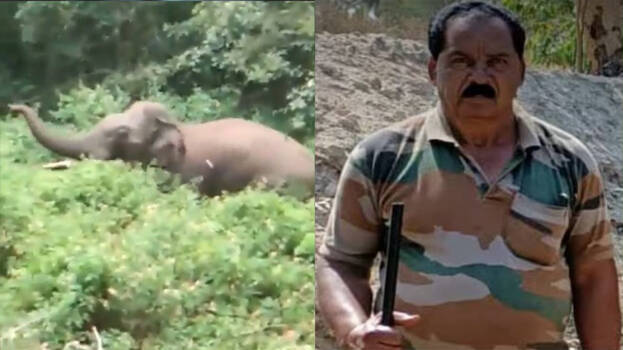 BENGALURU: An expert in firing tranquilizer darts met with a tragic end while attempting to capture an injured wild elephant. The incident took place in the forest region of Hassan district in Karnataka. The deceased is former forest department officer HH Venkatesh aka 'Aane Venkatesh'.
The tragic incident took place while a team of the forest department attempted to capture Bhima, a wild elephant. The forest department had decided to tranquilize Bhima and rehabilitate him after he suffered injuries in a clash with another wild elephant. Following this, a team consisting of Venkatesh and veterinary doctors reached the area on Thursday. An attempt was made to capture Bhima by tranquilizing him in the coffee plantation where he was present. In the meantime, the elephant violently rushed towards Venkatesh. Although other team members managed to escape, Venkatesh fell to the ground and was trampled by the elephant. The seriously injured Venkatesh was immediately admitted to the nearby hospital where he breathed his last at around 2 p.m. on Thursday.
Venkatesh, a former forest officer, was serving in the Elephant Task Force on a contract basis. Following his death, the Karnataka government announced a financial assistance of 15 lakhs to his family.