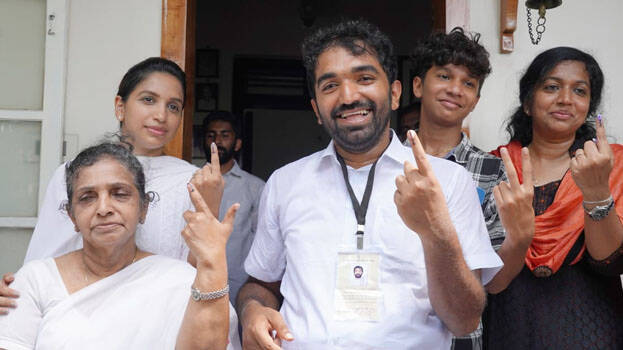 Congress never had to do any rigorous high panel meeting to find a suitable candidate for Puthuppally. On the same day as the EC announced the by-election date in Puthuppally, Congress waited no time to reveal their candidate— the scion from the Chandy family, Chandy Oommen. The contest was over the moment the announcement was made. There was no question about any party doing the unthinkable or having the might to topple Oommen Chandy's legacy in Puthuppally. LDF candidate Jaick C Thomas earlier gloated about securing a victory by a 15,000 vote margin but was forced to remain stoic on the day of counting votes as the candidate denied response to major media channels. Many other leaders from the left faction followed suit and went schtum.
Starting from the very first round, Chandy Oommen thrived, giving real hints about what was in store in the coming hours. There are many contributing factors to this resounding success and the most important of all is the undying love and empathy that people still harbor for their beloved leader Oommen Chandy. With this victory, Chandy Oommen scripted a record victory on the turf of Puthuppally, even bypassing his father's ever-dominant track record.
However, no big change is in the cards when it comes to legislative assembly. Chandy Oommen will take oath on Monday as a member of the legislative assembly and will take a seat that was hitherto reserved to his father. However, apart from the rudimentary process of assembly, LDF has certain uncomfortable questions to solve. Despite having near to 100 seats in the legislative assembly, the loss in Puthuppally is a fall nevertheless.
Losing in a congress bastion is no catastrophe. But, many LDF top guns before the elections tacitly made claims saying this by-election to be the peoples' verdict to two years of Pinarayi government. There is no doubt that the astounding majority of Chandy Oommen is also an answer from people who harbour strong anti-incumbency sentiments. It is no secret about the discontent among people about the second tenure of the Pinarayi Government.
Even with the direct intervention of the Chief Minister, services to the people are delayed from government offices. Files are piling up everywhere. New stories of corruption and bribery are coming in torrents. There is no effective measure to control prices. Transport, electricity and water charges are all going up. Apart from all this, drug gangs are becoming a threat to livelihood in many parts of the state.
The four-week-long election campaign in Puthuppally was generally up to standard but occasionally turned to personal assassinations and slander fests. It is not a good trend to turn against family members when facing fierce competition. It is the responsibility of the party leaders to dissuade the workers who were behind it.